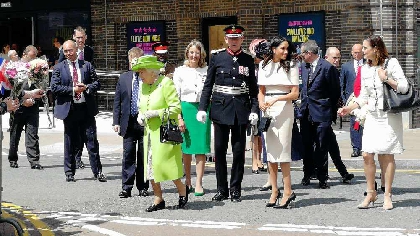 For their first royal engagement together, the Queen and the Duchess of Sussex arrived in Chester today for the opening of Storyhouse.
Crowds were gathered outside the town hall area from as early as 8 o'clock in the morning today - prepared fans of the royals even came equipped with camping chairs. Needless to say there was plenty of cheering and flag-waving as the Duchess and Queen arrived at the building for its formal opening.
The pair were given a tour of the building which began with a trip to the children's library to meet a Syrian settlement group engaged in craft work. They went on to watch a performance by Cheshire's 'Fallen Angels', a dance theatre company for people in recovery from addiction.
On the ground floor they watched children from Chester's local primary schools perform alongside actors from 'Swallows and Amazons'.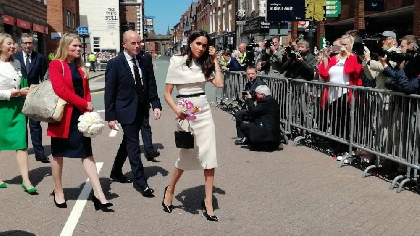 Storyhouse has been described as one of the country's most successful cultural buildings.
The space has been made into a library, theatre and cinema and has had one million customers in its first year.
As libraries across the country are shutting down, Storyhouse has loaned over 258,000 books since opening and increased Children's book loans by 50 percent since Chester's main library made the move.
It's been a long day for the royals who started their visit to Cheshire in Widnes this morning for the opening of Mersey Gateway Bridge.