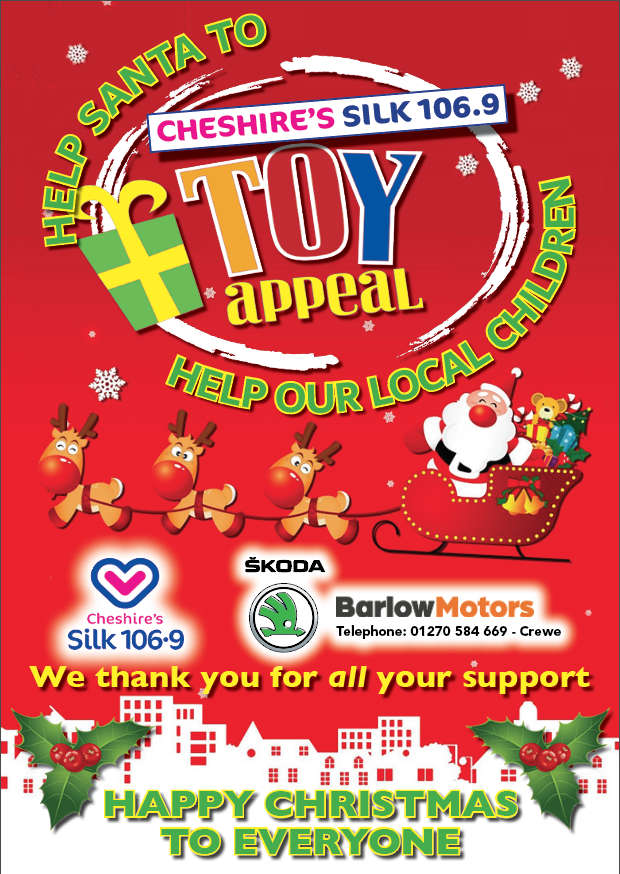 The Christmas Toy Appeal is back with Cheshire's Silk 106.9 and Barlow Motors Skoda in Crewe and Stoke and it's needed more than ever before!
We are looking for your help to buy an extra new and unwrapped toy to be donated to children who may not receive a Christmas present this year, through no fault of their own.
And every year you amaze us and children all over Cheshire Benefit from your generosity.
This year more than ever there are more Children all over Cheshire that without your help will not have a Christmas
So come on lets do this and together we can make Christmas happen for Children all over Cheshire.
when you go Christmas shopping spare a thought for those children that wouldn't get any gifts through no fault of their own.
All we ask is for a small unwrapped un-used and no food based gifts to avoid allergies so we can distribute them to various children's charities all over Cheshire.
*Deadline for donating gifts is 16th December this is so we can get them to the charities in time for Xmas.
Let's make the TOY APPEAL 2022 bigger and better than ever
Below is a list of our drop points.
Harts Macclesfield, Westminster House, 10 Westminster Rd, Cheshire, Macclesfield SK10 1BX
Macclesfield Indoor Market
Barlow Motors Skoda....Weston Road Crewe
Alderley Edge Dental....West Street..... Alderley Edge
Kelly's Dry Cleaners ....Broken Cross.....Macclesfield
Sylk Dance Academy......Union Street Macclesfield.....
Clean Assured Macclesfield Chester House, 68 Chestergate, Macclesfield, Uk SK11 6DY
Hooley Watson & Buckley Funeral Directors, 7-9 James street, Macclesfield, Cheshire, SK11 8BP
Classworx Macclesfield - King Edward Road, Macclesfield SK10 1AP
Tile Giant Macclesfield, Unit A Statham St, Macclesfield SK11 6XF
Spearings Butchers - 12 Park Green, Macclesfield SK11 7NA
Hal Whittaker - Knutsford 5 Princess St, Knutsford WA16 6DA
Apus Cycles - Knutsford - Tatton Street Knutsford WA16 6AF
Tesco - Hibel Road Macclesfield
Sainsburys Local - Holmes Chapel
Kings School - prestbury Macclesfield
East Cheshire hospice Macclesfield
SuperBowl Macclesfield - London Road, Lyme Green Business Park, Macclesfield SK11 0TB
JJ Cookson Macclesfield - Waters Green, Macclesfield SK11 6JS
Painters Supply Limited 5 Chelford Road Macclesfield SK10 3LG
The Works - 12 Market Centre Crewe - CW1 2NG
Middlewich Library - 22 Lewin Street Middlewich
Thank you Cheshire.
Your donations are really welcomed to help put a smile on little faces across the county. The charities will make sure that your gifts are distributed to children in our area.
The Toy Appeal with Barlow Motors Skoda, Weston Road, Crewe and Talk Road, Newcastle-Under-Lyme and Cheshire's Silk 106.9