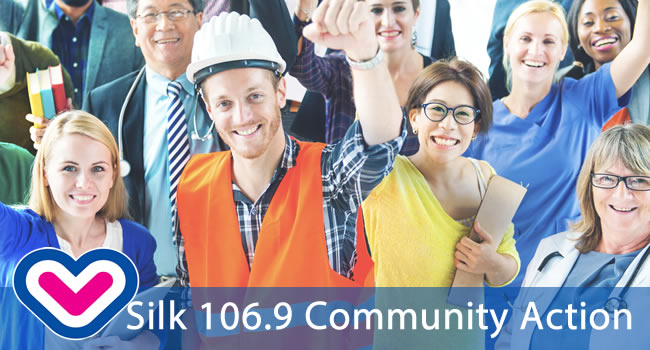 Cheshire's Silk 106.9 is your local radio station, broadcasting to the community and here to help you when you need us most. Our on air community action bulletins are designed to bring the community together as a whole. If you are able as an individual, group or company which can help our community then please fill out the form below and we will share with our listeners / readers. Your support is greatly appreciated.
The latest Government advice regarding Coronavirus (COVID-19) HERE
The NHS Guidelines and Information regarding Coronavirus (COVID-19) HERE
Macclesfield General Hospital visiting restrictions details HERE
Arriva Bus Timetable Change Information HERE
LIVE WELL with Cheshire East Council - Information HERE
NHS Mental Health Crisis Line
Open 24 Hours, 7 days a week. Anyone can call if needed to talk to a dedicated mental health professional 0300 303 3972
How Can You Help The Community?
Here are some of the offers of help so far.......
Carole Mason I live in Macclesfield and happy to help there and local environs. I have a car, and can do lighter jobs like shopping , prescriptions etc. Not too good with animals. I work full time (from home at the moment). But can offer to help one day at a weekend (either the Saturday or the Sunday), if this is possible. Don't mind which actual day but preferably day time hours (10am until 16pm). You can email me carolemason14@hotmail.com or telephone my mobile (07960 579 818).Thank you Carole Mason
Natalie Coleman - Happy to help with shopping at supermarket, collecting prescriptions in Congleton / Macclesfield area - Contact - natalie.coleman1917@gmail.com
Judith Yeates - Making scrubs free of charge for nurses, doctors, carers and other frontline staff in Macclesfield area. Please contact - judiththecakebaker@hotmail.com
Bare Necessities Toiletry Bank - Wendy & Lisa - They are helping to provide toiletry crisis packs for the Manchester University Foundation Trust staff who are being re deployed throughout the trust and away from their families and homes as they fight the coronavirus. They're in need of any mini or travel sized soap, shampoo, shower gel, hand cream, face cream, toothpaste, toothbrushes and deodorant. There are donation bins in Waitrose, Co Op and Tesco – if you are doing your weekly shop, and can help then please do. Bare Necessities continue to do their work throughout the crisis. You can contact them on twitter @bntoiletrybank or search for them on facebook
Nicola Evans - Forward Together High Peak - Offering free advicee on addiction, mental health and anxiety and depression due to isolation and lockdown. Contact Nicola - Nicola.evans77@icloud.com
Helen Rutherford-Gregory - Sister Hub - SisterHub is a supportive women's business network, especially for the self employed.To find out more information click HERE
Stephen Cattermole - I am still at work,but all my mornings are free. I own a car, and would like to offer any assistance to those who would like any help with shopping,talking on the telephone or such like.
I live alone in Crewe, and hoping that I am able to assist someone who is either vulnerable or self isolating.
Contact - stephen.cattermole41@hotmail.com
Rachel Massey - Tytherington - I can drive and buy collect shopping etc, check in on family members and friends around area if people can't visit etc. Contact - Rachel - Rachel.massey33@outlook.com
Jayne Ridings - Bosley - I'm happy to help anyone locally who may be struggling to go shopping or collect prescriptions etc...I am hoping to shop at small local businesses too to help them survive this worrying period. Contact - Jayne - jayne.ridings@gmail.com.
Amy Richards - I am happy to help anyone who is self isolating by walking pets, going to the shops etc. In any way I can. I am also a lawyer who specialises in employment law so I would be happy to assist with any employment related concerns during this time. Contact - Amy-Richards@outlook.com
Shelley Louis - We run a local laundry business, we will collect & deliver free laundry for the elderly & also collect shopping prescriptions etc or anything they need
We can also put them in touch with other elderly customers we already have who live alone who are having to self isolate so they can chat with each other on the phone so they have someone to talk to at all times. Contact - Shelley2@ntlworld.com
Bill - Silver Town Taxis - We have set up a dedicated line for any vulnerable or elderly who are in need of essentials or to collect medication from the pharmacy. We would like to offer this FREE service to our most vulnerable citizens in the Macclesfield, Bollington, Tytherington, Prestbury and surrounding area. Contact - 01625 424 444
Sherree Lawrence - I can pick up supplies and prescriptions. Walk the dog, transport to/from doctor/hospital. Whatever is needed, provided that it can be done safely. Contact - sherreelawrence@btinternet.com