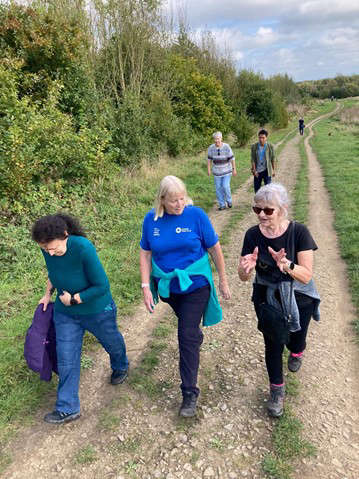 In collaboration with Mind North West Hub Mental Health, Sport & Physical Activity Network, residents across Cheshire were invited to walk and talk on the 8th of October in Macclesfield, Crewe and Northwich for World Mental Health Day.
The opportunity brought people together in a safe space and chat about what is happening in their lives. It included activities to help participants get to know each other and therefore be encouraged to talk to each other and promote positive thinking. During the walk some participants talked openly about how they felt, but some just enjoyed connecting with others.
One of the walk leaders said "The relaxed atmosphere was perceivable. All you could hear during the walks was chatter and laughter.
"Even more incredible if you think that most of the participants were complete strangers to each other."
With all participants successfully enjoying the walk and talk, strengthens a clear link between physical and mental health. Research shows that exercise influences the release and uptake of chemicals in our brains that make us feel good. Staying active can lift our mood, reduce stress, help people to deal with negative emotions and even help with anxiety and reduce the risk of depression and dementia.
With many residents enjoying the walk from the 8th of October, many have exchanged details to stay in touch to meet up for more walks and talks. Those who joined the walk included organisations such as; YMCA Crewe Group, Communities (Cheshire East), Councillors, NHS Cheshire Clinical Commissioning Group (CCG), Canal and Rivertrust, and members of the public.
Roberta Pomponio, the lead for mental health for Active Cheshire said, "So pleased to see the walks we organised have helped people, we want to make physical activity accessible to all by changing the way people think, by providing opportunities and helping people realise that any physical activity, not matter how small, is one step closer to improving mentally.
Physical activity is for everyone, it helps our health and stress when confronting difficult issues. As well as spurs creative, deeper ways of thinking often released by mood-improving physical activity."
If you would like to find out how someone really is, here are some pointers from Roberta.
Find out more about the work Active Cheshire do at: