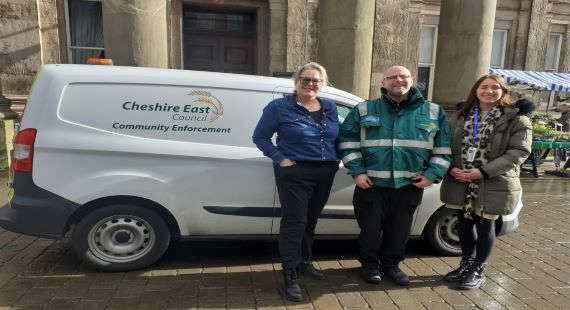 Cheshire East Council has employed a new community enforcement officer, thanks to grant funding received from Macclesfield Town Council.
The role of the new community enforcement officer will be to help the local community within Macclesfield town centre and its surrounding wards feel safer, and to assist in providing a more pleasant place for people to live by addressing certain environmental issues.
The core areas of responsibility the community enforcement officer will cover are:
Fly-tipping and littering investigations;
Breaches of public space protection orders;
Dealing with reports of abandoned vehicles;
Enforcement of witnessed littering offences;
Dog fouling; and
Business and domestic waste duty of care investigations
The new enforcement officer will carry out preventative and proactive work on an 'engage, educate and encourage' basis with a view to enforce where necessary across all wards in Macclesfield. Their work will particularly focus on areas of the town where problems are identified.
The additional resource will provide a more enhanced, visible presence in the area and is an extension to the role that the council's core community enforcement team provide to the area. The new role is not replacing existing provision. The support will provide a more proactive, problem-solving response to issues in the town and surrounding wards applying focused time to the area.
Councillor Mick Warren, chair of Cheshire East Council's environment and communities committee, said: "As a former police officer, it makes me very pleased to share this news. We've already seen the significant positive difference that additional community enforcement support via grant funding has made in Crewe, adapting the same four Es philosophy of engage, educate, encourage and enforce.
"I'm confident that those positive results will now also be replicated in Macclesfield with this additional support."
Laura Smith, town clerk from Macclesfield Town Council, said: "One of the most persistent issues residents tell councillors about is littering and dog fouling. Therefore, the town council has funded a community enforcement officer that covers only Macclesfield. This extra service will help to keep the town clean and tidy. It is also worth noting that instant fines can be issued."
The new community enforcement officer role is being grant funded by Macclesfield Town Council, although the officer is being employed by Cheshire East Council.
For more information, please contact Macclesfield Town Council on:
01625 374142.