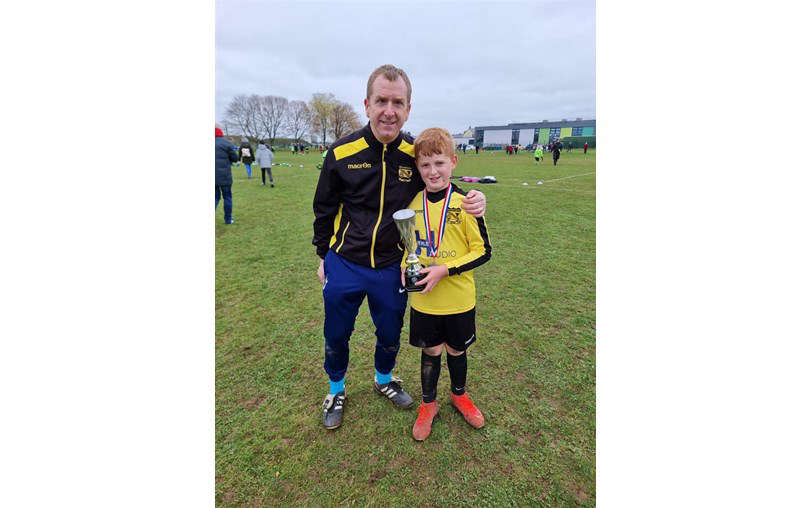 John Birtwistle is raising money for Myeloma UK because his close friend Simon Cowlard has Myeloma disease.
Ashley Taylor Dawson (Hollyoaks) and John Birtwistle are raising money for Myeloma UK as their close friend Simon Cowlard was recently diagnosed with the blood cancer Myeloma.
They would like to thank the following people who have made a contribution to make this event possible.
Robert Smethurst - Owner Macclesfied FC
Danny Taylor - Macclesfield FC
The cast of Hollyoaks and other celebrities involved
The squad from Tuesday Night Football @ Box Football
Dave Swindles Manager @ Box Football Cheadle
This is Simon's story....
The month of February this year is one I'll never forget.
Earlier in the month I had a few chest pains, nothing major just every now and then. I was still playing 6 a side football once a week and very active in the coaching sessions I run for my under 10's boys football team. The doctors surgery out of the blue requested I needed an x ray and this moved onto to a CT scan 5 days later. Things started to move very quick it was scary but I was convinced I would be fine….. A bit of me was will I though.
In the CT scan I was saying in my head this is fine, Ill be fine this is not me. It was 100 % positive. This will not happen to me.
I came out of the CT scan to a nurse you asked my wife and I to come into a private room. Again I am thinking why ? I will be fine.
The next day after a walk with family my legs start to go numb, its Sunday evening around 10pm I now can't walk. I did not tell anyone all afternoon I did not want to make fuss. I now have no choice as we call for an ambulance. I am taking into the hospital late on Sunday evening. My wife in tears at home, I am trying to keep it all in as the ambulance staff make small talk.
In the early hours of Monday morning and more tests being done I am being giving steroids into my veins to help shrink the tumour that has got near my spine and affecting my nerves to do with my legs. This worked really well and the feeling came back. I was transferred to the cancer hospital in Oxford the Churchill to meet another consultant. He was amazing and could not believe the activities I had achieved at the weekend. He explained my body is not strong enough to do all of this. He was a nice guy and made me feel relaxed with him and safe I guess. The next consultant came in and was completely the opposite. He explained they think it is Myeloma and if it is he said I have 5-8 years to live. Vey direct and just awful he looked at me as I cried and he said nothing. Eventually Marwa said to him if that's it could you please go. He left the room and we were both in a state of shock and emotion.
I was in the hospital all week. More biopsy's, blood tests and pet scans. The food was good and I can highly recommend the apple pie and custard, the staff were chatty but I had left my personality at home for that week. In the evening the FA Cup games were on TV my team Spurs playing on the Tuesday evening. I stared at the box I did not watch it I could not concentrate on the game my mind everywhere but on the football. On Wednesday afternoon it was confirmed that I have Myeloma a blood cancer disease that is common in over 65's I am 46 and told that my body is fitter & healthier and this will mean I have a better chance to fight this and live longer. Myeloma is a cancer they do not have a cure for at present. However they can control and treat this through Chemotherapy, medication and a stem cell transplant.
I came home late on Friday evening with a shopping bag full of medication and a spreadsheet of what tablets to take and when. I opened the door at home to welcome home banners and balloons and the biggest hug from my son Oscar. He did not want to let go of me and in a way man marked me all evening and all weekend ! My shadow was back with me and I was over the moon. I went to bed on Friday evening and thought to myself its taken me almost a week but I am back in my own bed.
On Saturday morning I went to watch the under 10's play. I had handed over the cones and balls to my assistant Aaron a great coach and I knew it would be in safe hands. I stood in the bottom corner with Marwa and my parents in my own thoughts. I could not cheer I could not encourage I did not have the energy. I could not miss the game though. The boys saw out a 3-3 draw and were fantastic the smile on my face was back I was proud as punch. The game ended and one lad who scored his first goal for us came to me and said did you see my goal. I replied what a goal that was Harry well done. Made my day. Sport is incredible in these situations as I stood and took in the game everything else was forgotten.
I am now on week 9 of chemotherapy I am working every day. I am back coaching the boys football and loving putting the boots back on and throwing myself into it. The road ahead is getting better and my result are ahead of target and they are saying I should be in remission earlier than expected. Once this is achieved I go to have the stem cell transplant. This will see me in hospital for a month. At this stage I loose my hair and quite a bit of weight apparently. Once I come out they are saying I will have at least 3 months on the sofa trying to gain my fitness and energy levels. This looks and sounds tough but I am focused to come out the other side stronger and with the Myeloma totally under control. It gives me a better chance.
More details on John Birtwistle's JustGiving page:
https://www.justgiving.com/fundraising/John-Birtwistle?utm_campaign=lc_frp_share_transaction_fundraiser_page_donation_received_-_nth_donation&utm_content=5174988d-b1df-4e41-ac74-c120ffea3856&utm_medium=email&utm_source=postoffice&utm_term=1656611334420