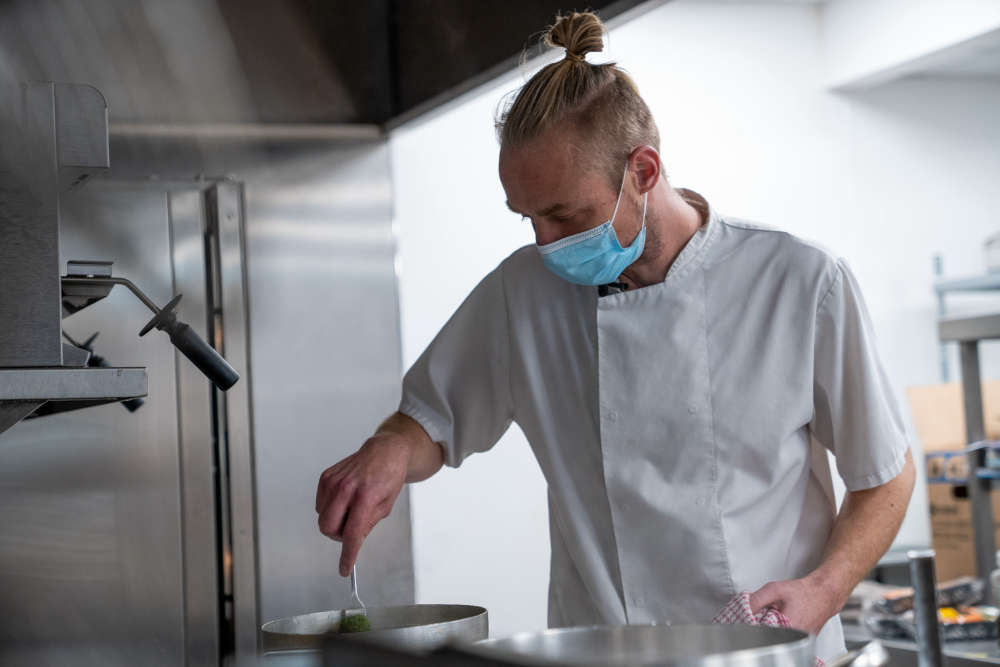 The scorecards are out at a family-run Cheshire care home as residents rate their dishes as part of a new person-centred nutritional scheme based on the popular TV show – Come Dine With Me.
Priesty Fields Care Home, in Congleton, recently launched a nutritional scheme titled 'Care Dine With Me', which enables residents to choose their preferred menu of choice before providing a scoring system to help correlate residents' favourite meal of choice – promoting inclusivity and interaction around the dining room.
Despite there being no cash prizes for the home's head chef, Barry Moorcroft, a regional finalist in the category of 'Care Home Chef Award' at last year's prestigious Great British Care Awards, it did enable a greater understanding of what residents look forward to at the dinner table – with the latest edition of the scheme including a tasty serving of the renowned French dish, 'Coq Au Vin', which featured alongside the Priesty Fields 'Sea Food Pie'.
Discussing the nutritional scheme, Rishi Sodha, Care Director at Priesty Fields Care Home, said: "We first came up with the idea as a way of getting residents to provide us with a greater understanding of what they would like to see on their plates more frequently as opposed to a standardised menu. It was also a great opportunity to provide a bit of fun and laughter in the dining room."
Inclusivity is at the forefront of Priesty Fields' care offering and its latest person-centred approach to nutrition will serve to establish a level of independence and control among the residents, who are at the heartbeat of everything when it comes to shaping their care experience.
While there weren't any tears and tantrums capable of matching some of the most iconic on-screen rants in television history, one of the home's residents, Dennis, was able to produce one of the standout moments of the day. When questioned by Barry whether he enjoyed his food, Dennis jokingly replied "no, not really". Barry was able to see the funny side, however, as he laughingly responded with "thanks, Dennis, I'm the chef", having already received several 10/10 scorecards for his nutritional exploits.
Located in a green residential area close to Congleton's town centre, Priesty Fields includes 78 spacious en-suite bedrooms, along with a gastropub, farmers market, cinema, spa, salon, gym, library, private dining room, garden lounge, and GP office.
The home is operated by the Handsale care group, which oversees the management of eight residential and nursing care homes across England, Scotland and Wales. The group prides itself on empowering its staff to provide outstanding care by putting well-being and community at the centre of its operations.
Rishi concluded: "Care Dine With Me was a great success amongst our staff and residents. At Priesty Fields, we work tirelessly to create an inclusive care culture, which is what Care Dine With Me is all about. The opinions and thoughts of our residents influence every aspect of our care offering, so we were delighted to put together an initiative which allowed us to gain vital insight regarding our residents' likes and dislikes when it comes to food, while also enjoying a laugh or two. It's become an activity that everyone looks forward to weekly and is something that is definitely here to stay."
To find out more information about Priesty Fields Care Home, please visit:
https://handsale.co.uk/priestyfields/
Pictured - Priesty Fields Care Home head chef, Barry Moorcroft serves up a delicious selection of foods for its 'Care Dine For Me' scheme.