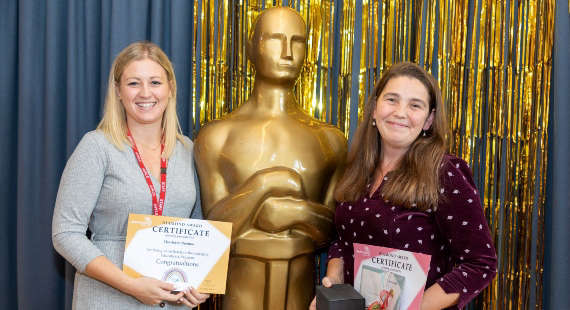 Cheshire East Council held its first Early Help awards last week to recognise and celebrate individuals and organisations who support children and families early, preventing them from going into crisis.
At an emotional ceremony at Sandbach Town Hall, attendees heard passionate praise of the work of early help teams, help which many families would struggle to cope without.
Early help can be described as: getting involved early and as soon as possible to tackle problems emerging for children, young people and their families.
Issues such as debt, poor mental health or threat of homelessness can happen to families at any point in a child or young person's life.
Winners were announced in several different categories including health, education, unsung heroes and outstanding achievement. The award-winners were a mixture of council employees, people working in partner organisations and volunteers.
People from many different services came together to celebrate the work of those who have made and continue to make a huge difference to so many residents in the borough.
The council also sought the help of children and young people who named the first ceremony 'The Diamond Awards' with the word 'diamond' standing for individuals/organisations who:
Dedicate
Inspire
(go) Above and beyond
Make a difference
(are) One in a million
Never give up; and
Develop relationships
Speaking at the event, Councillor Kathryn Flavell, lead member for children and families at Cheshire East Council, said: "I have been overwhelmed and humbled by the sheer volume of nominations but also by the incredible stories within them. There are examples of innovation and creativity, dedication and tenacity, and taking a stand for fellow humans.
"The total commitment to make a difference to other people really shone through. It really underlines the importance and positive impact of the work of this service and all those within it."
A parent who spoke at the event summed up just how much the help that she had received meant to her: "These services and people have been lifelines during the last three years and have been invaluable to me. Who knows where I'd have been without their help, support, guidance and friendship along the way.
"Thank you for all you do to support local families. We need you more than you know."
Here is a full list of the award winners: (all Cheshire East Council unless otherwise stated)
Family and Children's Workers - Youth Work: Duncan Allen - Young Persons Advisor; Family and Children's Workers – Early Start Workers: Heather Sykes – Children's Preventative Service; Family and Children's Workers – Family Service Workers: Sue Meredith FWS Crewe Family Centre; Technical whizzes: Simon Gates; Unsung heroes - Georgie Johnson: Volunteer; Outstanding special achievement: Joanne Cliffe – Integrated Commissioning Manager; Health – professional or organisation supporting child or organisation supporting child or families: Noleen Rogerson; Outstanding early help plans: Megan Vause – Midwife; Educational settings: Poppies Day Nursery; Educational support: Coral McIntosh – Brierley Primary School; Community groups and organisations: Wishing Well – Charles Maines; Outstanding parents' choice award: Sarah Clarke – Curriculum Engagement Lead at Wilmslow High School, G8way.