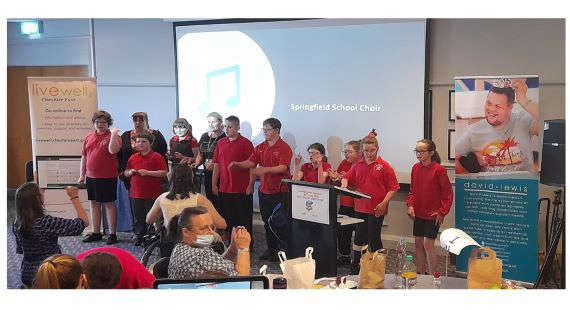 More than 200 people from across Cheshire East came together to celebrate the lives of people with learning disabilities in the first large face to face event since lockdown.
People who use services came together with their families, carers, and the professionals they work with to talk about their experience of services including what is good and what needs to get better.
The event was held on the first day of Learning Disability Week, an annual campaign organised by the charity Mencap, which aims to make sure the world hears what life is like if you have a learning disability.
The conference was hosted by Cheshire East Council with support from the charity, David Lewis, which supports people with complex needs including learning disabilities and autism. People were asked:
How would they like to see the past acknowledged?
What they think of current services?
What three key actions would they like to see tackled over the next 12 months?
Delegates heard about a project to tell the individual stories of people with learning disabilities who lived in Cheshire as far back as the 1700s. 'All Our Stories' is a National Heritage-funded project by the social enterprise, Snow Angels, which chronicles the lives of young people with learning disabilities during World War I.
Highlights from the day included presentations from Tom, co-chair of the Cheshire East Learning Disability Partnership and Claire, a self-advocate, choir performances from Springfield School and the David Lewis Centre, Jamie - a young person talking about his internship and plans for his future and the personal stories from parents and carers.
Glyn Withenshaw, whose 33-year-old son Jon has complex needs including epilepsy, shared his life as a carer, in the form of a poem called 'Jon's Life – Part One' I never intended to be my son's carer
Sometimes I wonder if life could be fairer
A twist of fate, divine intervention
If only there had been some sort of prevention
As Jon developed on a backwards trail
Hosts of experts began to prevail
Tests, assessments and meetings galore
Epilepsy and no speech seemed to be at the core
Non-development the order of the day
So, I decided it must be time to pray
Mornings, and mums gathered for the normal school run
We watched silently – exclusion's no fun
And the taxi arrives and Jon's on his way
A long journey to assessment school far away
The prognosis it left us feeling quite numb
Little hope for the future and what is to come
A special needs school was how he was labelled
Would Jon's life become a little more stable
The special school - so calm and undemanding
Guiding us through our issues with great understanding
And Jon becomes an adult but only in age
His future and outcomes so difficult to gauge
The constant thoughts of Jon's future care
What will happen when I am no longer there?
Councillor Jill Rhodes, chair of Cheshire East Council's adults and health committee, said: "Our vision is that all residents live a healthy, happy and independent life with choice and control over the care that they receive.
"It's so important that we recognise the past, applaud the good things we are doing right now and hear directly from people with learning disabilities and those who support them about how we can improve.
"It was lovely to meet everyone in person following the pandemic, celebrate the wealth of different abilities amongst our residents, as well as acknowledging the importance of looking after those who care for them."
John Heritage, chief executive of the charity, David Lewis, said: "I was overwhelmed by the powerful stories we heard during the event and the importance of services like ours that work so hard to give independence and support to people."
For more information on services that support people with learning disabilities visit:
learning disability Livewell page
Pictured - Children from the Springfield School Choir.