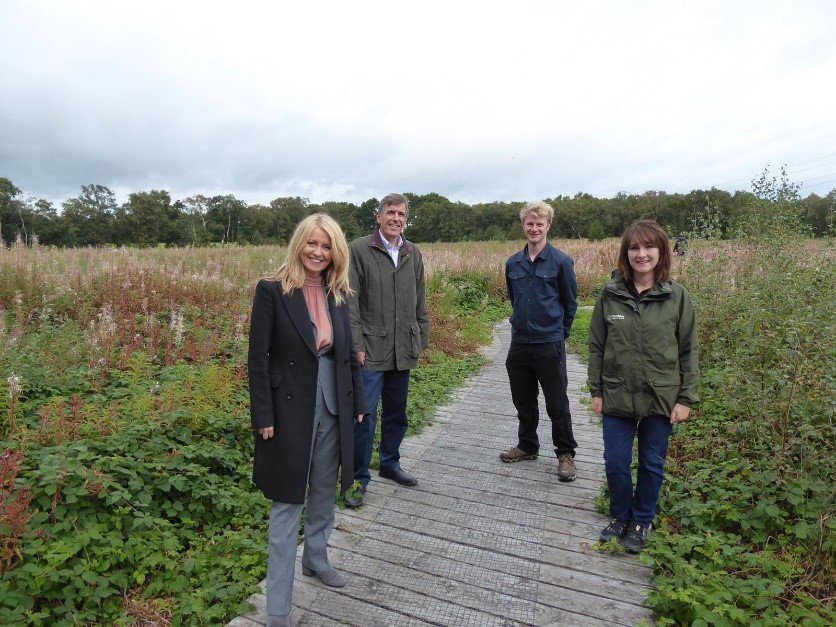 Macclesfield MP, David Rutley, and Tatton MP, Esther McVey, recently met with Cheshire Wildlife Trust to learn more about peatland restoration.
The two MPs met with Trust staff at Dane's Moss Nature Reserve, south of Macclesfield, in order to see the restoration work that is taking place onsite and how it plays a role in nature's recovery.
The Trust has been rewetting the land in order to help replenish soils which have been damaged by peat extraction. Much of the work involves ensuring that the water on site is retained and contaminated water is reduced. Such management allows for the growth of sphagnum moss the first stage towards building up carbon-rich peat soil.
Peatland is increasingly recognised as one way to combat the climate crisis, yet very few of Cheshire's peatland sites remain intact. Over the years, many have suffered from intensive extraction and development, destroying both wildlife habitat and a valuable source of carbon storage.
James Melling the Trust's Campaigns Officer commented: "Peatlands have a huge role to play in tackling the current ecological and climate emergency and yet many are in poor condition. It's easy for people to recognise the value of planting large groups of trees but people don't have that same understanding when it comes to peat. Peatland areas are important in both fighting climate change and preventing biodiversity loss, yet peat extraction still goes on today. A really simple way the public can help is by going peat-free at home. Switching to a peat-free compost is one way we can protect and restore the peatlands we have left."
More advice on going peat-free at home can be found at: https://www.cheshirewildlifetrust.org.uk/actions/how-go-peat-free-your-garden.
After the visit, David said "Cheshire Wildlife Trust does much-needed work to conserve the local environment. Protecting our peatland is a vital task in capturing carbon and tackling climate change. I am very grateful to the Trust for raising awareness about this important priority and for taking positive action through its restoration projects."
Pictured - (from left to right) Esther McVey MP, David Rutley MP, James Melling, Trust Campaigns Officer and Rachel Giles, Trust Evidence and Planning Manager.