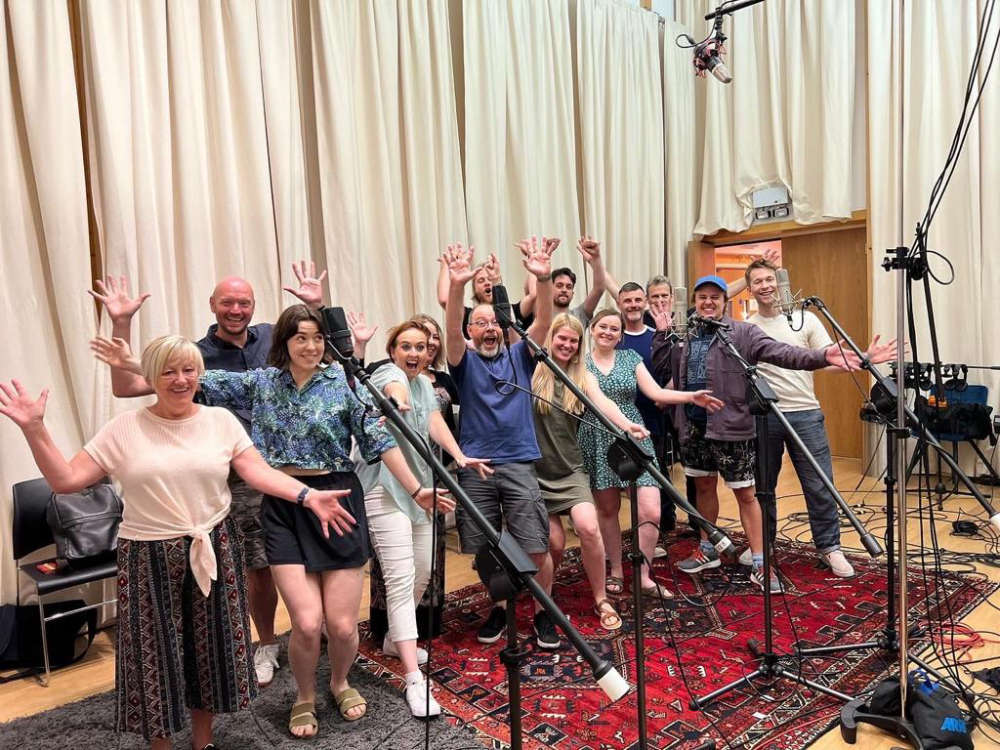 A group of local community choir singers are the latest additions to a brand-new Channel 4 comedy series which launches this week.
Singers from Chorlton Sings and Alty Voices, two no-audition, modern pop choirs based in Greater Manchester, feature in episode six of Channel 4 show Everyone Else Burns.
The new show is a coming-of-age comedy about a Mancunian family and the puritanical Christian sect they are devoted to. Will patriarchal David Lewis ever ascend the church ranks and become an Elder? Will dutiful wife Fiona deviate from her own dogmatic moral compass? Will their naïve 17-year-old daughter Rachal be allowed to go to university, and will 12-year-old son Aaron ever fend off his secular bullies? All could lead to damnation.
The series features The Inbetweeners and Friday Night Dinner star Simon Bird alongside a string of co-stars, with its final episode including an appearance from the joint choir group.
The TV cameo is an exciting moment for the singers, who only formed in summer of 2021 as lockdown restrictions began to ease. Since then, they have gone from strength to strength, growing in members, performing gigs across various city centre locations and even recording their own music videos.
Everyone Else Burns is the group's first foray into television, featuring a bespoke arrangement written by choir Director Rose de la Font and choir member George Hollywood. The song is performed by 14 singers from the group, including a solo from George.
Choir member Michael Chambers, from Ancoats, who took part in the filming for the episode, said: "It was a surreal and exciting experience.
"Being on a big production like this as a local community choir was quite scary but fun - and we had a blast filming and hanging around on set!"
Choir member Viant Siddique, from Didsbury, added: 'It was such a great opportunity for the choir to be a part of! To see the creative process and be around such a talented bunch was so inspiring."
Rose de la Font, the Director of both choirs, from Timperley, was also thrilled to be invited to work with the programme. She said: "It's been so exciting to be able to bring our choirs to a brand new series and get some local Greater Manchester talent on national TV!
We had a great time rehearsing, performing and working with the production teams and we can't wait for everyone to watch the series when it launches."
Everyone Else Burns is written by Dillon Mapletoft and Oliver Taylor, directed by Nick Collett and co-produced by JAX Media and Universal International Studios, a division of Universal Studio Group. Executive producers include Jax Media's Tony Hernandez and Brooke Posch. JAX Media's Molly Seymour is the producer on the series.
Everyone Else Burns launches today on Channel 4 at 10pm and is available as a box-set on All 4 now.
The choirs plan to celebrate by binge-watching the series together in a local Scout hut.
About Chorlton Sings and Alty Voices choirs
Chorlton Sings and Alty Voices are two no-audition, modern pop community choirs based in Chorlton and Altrincham, Greater Manchester. Our choirs rehearse together each week, featuring collectively over 100 members.
Our choirs sing innovative choir arrangements from across the decades – think Billie Eilish to The Beatles. We also foster healthy singing habits and improve musicality by working on vocal technique.
Both choirs are owned and directed by Choir Director Rose de le Font. Rose has a diverse musical background that influences her teaching philosophy: from being a full-time session singer and vocal teacher, to a member of London SOUND choir, led by Grammy-award winning Liz Swain of The Swingles.
Chorlton Sings instagram: @chorltonsings
Alty Voices instagram: @altyvoices
Choir website: ilikesinging.com
Youtube: I Like Singing
George Hollywood (soloist)'s Instagram: George Hollywood Music
The musical recording also featured members Joe Knowles and Matthew Hill of Manchester band Vala, on guitar and cahon (a type of drum).
Vala Instagram: Vala
Vala Facebook: Vala Manchester
Pictured - Members of the singing group during rehearsals for the show.