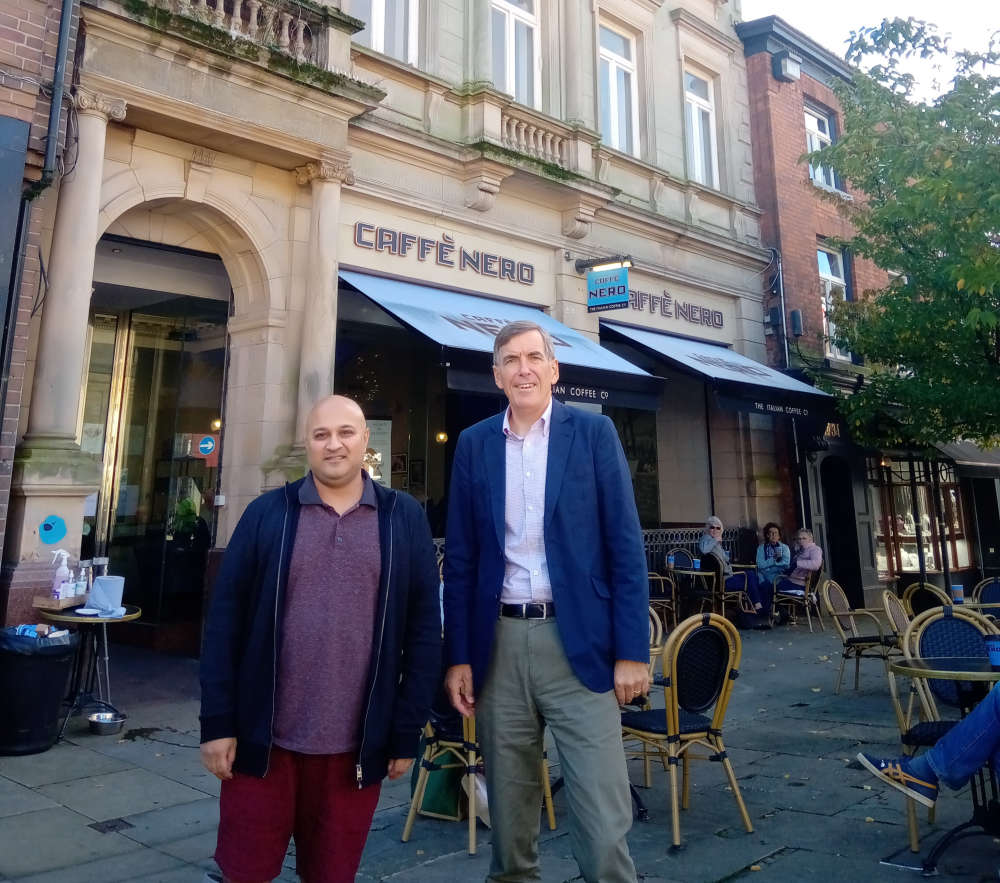 Local MP, David Rutley, is actively working with the Macclesfield Jobcentre Plus team to help bolster the drive to recruit people to fill vacancies in key sectors, including those in local hospitality businesses.
David recently visited Caffé Nero in Macclesfield to meet with the Jobcentre team and the Caffé Nero Area Manager and Store Manager, to add his support to the effective hospitality recruitment initiative that is being rolled out. During the recruitment exercise David attended, a number of offers are hopefully to be extended to successful applicants and, as a result of these achievements, further recruitment days are planned in the chain's cafes in Chester and Warrington.
As we return to more normal times, there are clear vacancies and job opportunities in a number of sectors, including hospitality and social care. David has first-hand experience of how well-equipped, and skilled Jobcentre Work Coaches are in assisting people to address any skills gaps and helping to build confidence in seeking a new role. Anyone who is interested in finding out more about these new opportunities can find details by contacting their work coach.
As a recently appointed Minister at the Department for Work & Pensions, David is working hard to help more people get into work and to enable those already in employment to further progress. He is a strong supporter of the Government's Kickstart Scheme, which pays for 16–24-year-olds to work in six month placements and enables them to enter the world of work. To date, over 85,000 young people across the country have found work through the scheme, which has recently been extended to March 2022
After the visit, David said, "As we have moved on to a greater sense of normality, it is important that we help support local hospitality businesses, which have been badly affected by the pandemic. It is great to see our local Jobcentre working in partnership with this sector, and others such as social care, to help businesses recruit for the job vacancies that they are now actively working to fill. They have my full support in this vital task."
Pictured -David Rutley MP with Div Lad, Area Manager at Caffé Nero.