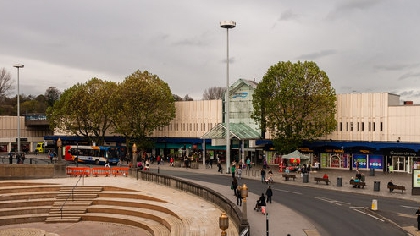 Merseyway Shopping Centre in Stockport
A mother fought off a man who attempted to take her two-year-old child outside a McDonald's in the town.
A police manhunt is underway and patrols have been increased around the Merseyway Shopping Centre in Stockport town centre following the incident.
A woman was shopping with her two children and their grandmother when a man approached them when they were outside the McDonald's restaurant. Police have said he suddenly grabbed the young girl and tried to pull her away.
The mother fought off the offender before he ran off toward the Primark store. Police were promptly contacted over what they're describing as an "attempted abduction".
The incident occurred on Monday June 4th around midday.
The man being sought by police is described as being mixed race with olive skin, slim build with shaven head and broad shoulders. It has been estimated he is aged between 35 and 45 and around 5ft 9ins tall.
At the time of the ordeal he was wearing black-framed glasses, navy jeans and a T-shirt with a dark pattern on the front.
Detective Inspector Julia Bowen, from Stocport CID, said: "This was a terrifying experience for the family, and they have been left incredibly shaken by what has happened. We have increased patrols in the area, and we ask people with concerns to please approach these officers and speak with them directly."
She went on to say: "This incident took place in a busy shopping area, so we are appealing to anyone who saw anything that could help to identify this to please get in touch."
Stockport Police can be contacted on 0161 856 9770 or alternatively please contact Crimestoppers on 0800 555 111.