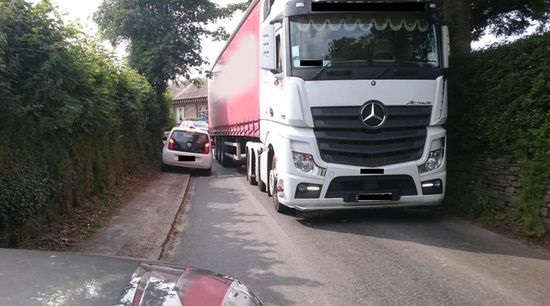 Police and Crime Commissioner for Cheshire, John Dwyer, met with North Rode residents, local councillors, and Cheshire Constabulary's Inspector Andy Baker to discuss the community's concerns surrounding speeding and HGV traffic in their area.
The meeting took place at a local resident's address, which provided the Commissioner and Inspector Baker with the opportunity to observe some of the issues that the community have raised.

Speeding was one of the main concerns for the meeting's attendees, with requests for clearer road signs also raised. HGV traffic was discussed, with a number of vehicles reported to be using the area's narrow lanes despite being over the weight restriction that is displayed throughout the village.

Police and Crime Commissioner for Cheshire, John Dwyer, said:

"It has been really beneficial to visit North Rode to discuss the issues residents are facing, and to witness some of the road concerns that they have.

"Making Cheshire's roads safer is a priority for me and it has been a productive meeting between residents, councillors, and the local policing team. Uniting different members of the community is key to making the change that is needed."

A number of positive actions were established from the meeting including North Rode's Police Community Support Officers to contact local haulage companies to inform businesses of the weight restricted lanes in the area and to advise that the drivers should use alternative routes.

John Dwyer added:

"I would like to thank everyone who attended the meeting for their support and ideas to manage the issues that have been raised. Each team has come away with specific areas of work which I believe could make a real difference in North Rode.

"It has also been a good opportunity to discuss the average speed camera pilot scheme that I am working on alongside a number of Cheshire's Parish Councils. This is a developing project which we can learn from, and we can implement the successful aspects across the county."
For more information please contact Kate Harrington-Lambert on:
kate.harrington-lambert@cheshire.police.uk
...or 07815 674817
Pictured - HGV congestion in North Rode.