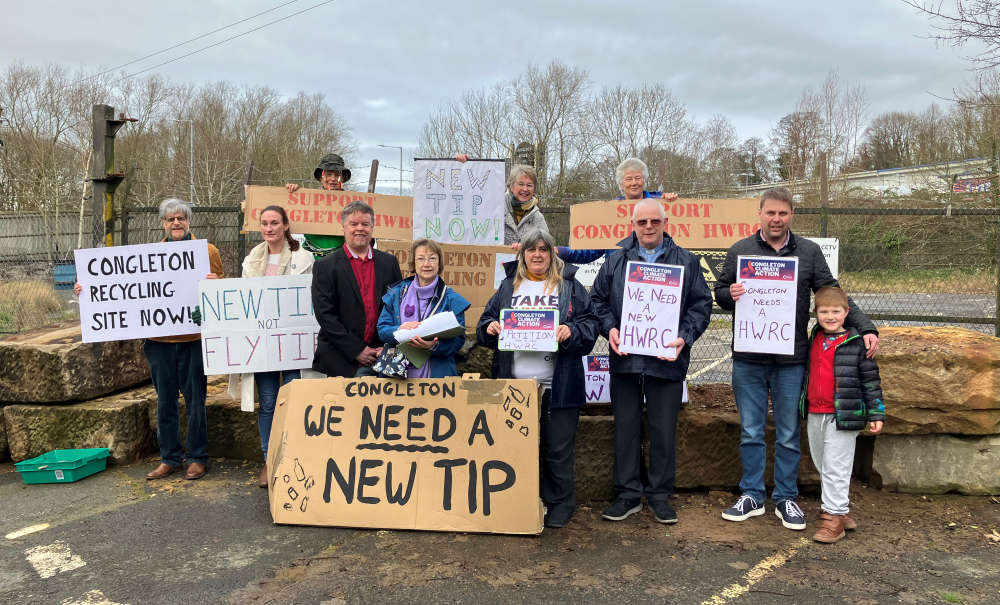 Campaigners for a replacement recycling site for Congleton are delighted that Cheshire East Council has agreed to accept their three petitions at their Westfields offices in Sandbach on 2nd February.
The petitions will be handed over just before the 10.30 am start of Cheshire East's Environment and Communities Committee meeting.
This weekend, the petitioners and some of their supporters were photographed outside the former Congleton recycling site. In the photograph, the petitioners, Liberal Democrat Councillor Paul Duffy (in both photos front row third from left), local resident Lesley Turner (in both photos front row fourth from left) and Jackie Kay of the Congleton Climate Action Group (in both photos front row fifth from left) have together succeeded in collecting almost 6,000 signatures calling for Congleton to have its own recycling site.
Liberal Democrat Councillor Robert Douglas, one of the campaign's organisers, said, "Congleton Town Councillors representing the whole political spectrum and our residents are united in the belief that Congleton must have its own recycling site. In May 2021, Cheshire East Council made the decision not to replace our recycling site but our campaigning forced Cheshire East to re-consider that decision and form a sub-committee to investigate future household waste and recycling site provision, with particular reference to Congleton and surrounding areas. Handing in these petitions adds impetus to our campaign by demonstrating the strength of feeling in our local area on this issue. It is, of course, ridiculous for Congleton and the surrounding parishes with a population of around 35,000 and growing, not to be provided with such a facility."
Pictured -Three Petitioners At Congleton Recycling Site.