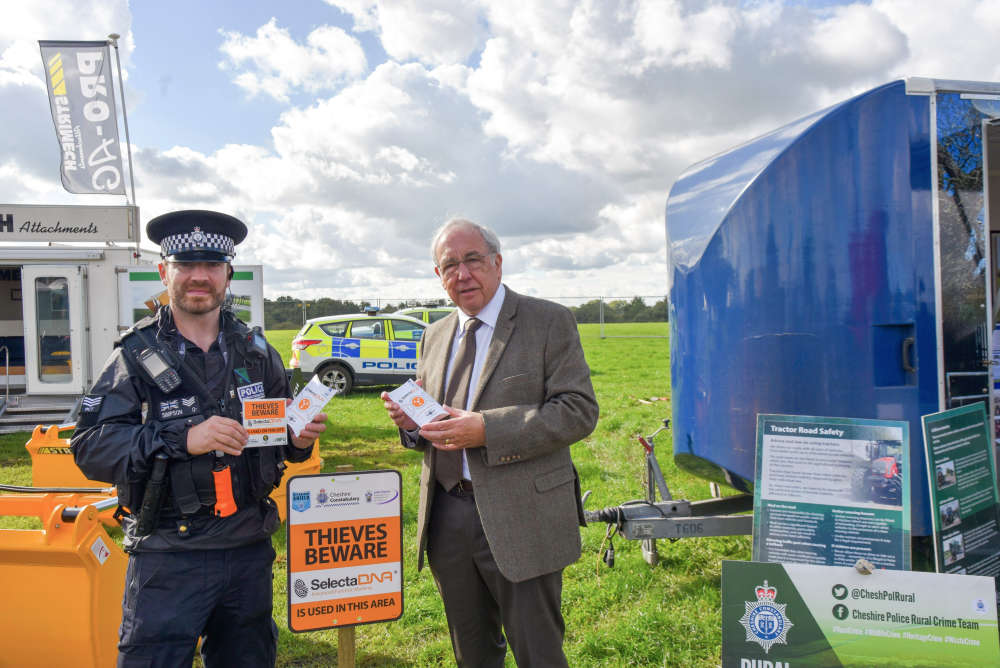 Cheshire Constabulary's Rural Crime Team at the Cheshire Ploughing Match were providing crime prevention materials, including SelectaDNA marking kits.
The match was held in Congleton this year and welcomes competitors and spectators from across the county. The Commissioner was keen for the farming community to receive the SelectaDNA marking kits which mark valuable items with an invisible liquid, which has a DNA code linked to it. This acts as a deterrent to burglars as their skin or clothing also becomes marked with the traceable liquid, meaning the offender and the stolen items can be linked back to a specific crime. The kits also provide a sign which can be placed on the owner's land, warning potential criminals that SelectaDNA is in use.

Police and Crime Commissioner for Cheshire, John Dwyer, said:

"It has been great to speak to so many people from Cheshire's farming and rural communities. I have been delighted to see the visitors taking the DNA kits away with them, I am hoping that they provide reassurance that the Constabulary and I are working to prevent and deter crime in their communities.

"Protecting Cheshire's residents from burglaries means having both preventative measures and deterrents in place to make the county a hostile environment for criminals."

Cheshire Constabulary's Rural Crime Sergeant, Rob Simpson said:

"Policing the countryside is a team effort with our rural communities being right at the heart of it. It's so important that we all work together preventing crime, and with these DNA kits funded by PCC John Dwyer, we can also enhance the service we give to those who unfortunately do have their hard-earned items stolen."

The Commissioner and the Rural Crime Team also encouraged visitors to take part in the Rural Crime Survey, which aims to establish the publics experience, feedback and opinions on rural crime in Cheshire and how it is dealt with by the Constabulary.

John Dwyer added:

"My thanks go to all the visitors who stopped to chat, share their opinions, or pick up some of the crime prevention materials that were available.

"Your feedback contributes to making our county an even safer place. If you haven't already done so, I would like to ask everyone who lives, works, or visits a rural area in Cheshire to have their say in my survey. I am committed to working with Cheshire Constabulary and their Rural Crime Team to support and protect our rural communities."

Have your say in the Rural Crime Survey here:
https://www.surveymonkey.co.uk/r/ruralcrimesurvey2022
Pictured - Police and Crime Commissioner for Cheshire, John Dwyer, with Cheshire Constabulary's Rural Crime Team Sergeant, Rob Simpson.