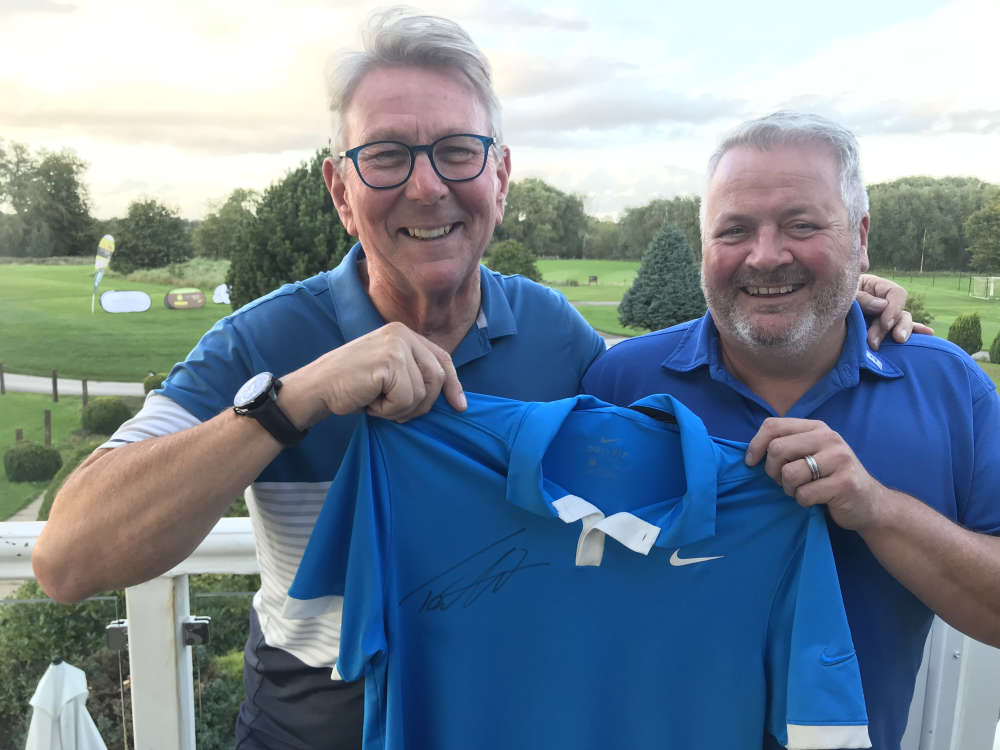 Club golfer Rainer Armitt landed a bargain in winning the auction for a golf shirt signed by one of Europe's Ryder Cup heroes, Tommy Fleetwood, during Cheshire's Silk Radio golf day at Mottram Hall.
That was shortly before Southport lad Tommy, freely recognised as the people's champion of European golf, landed a final day singles victory in Rome which clinched the triumph over the USA amid tumultuous scenes of celebration.
The shirt was donated by one of the most well connected players in the Mottram field, Mark Scott.
Mark is pals with David Flavell, Silk's Station Manager, and there is an emotional story behind how the shirt came to be auctioned for Reuben's Retreat, the charity which benefits from Silk's golf day.
Based in Glossop, Reuben's Retreat support families who have suffered the loss of a child or have a child living with medical complexities.
Four years ago, Mark, then still playing football at the age of 49, for Sandbach United veterans, collapsed with a heart attack during a match.
He would have died had he not been resuscitated by a friend in the fire service, Steve Barnes, who was playing for the opposing team.
Mark said:
"Steve brought me back, I ended up in hospital and that was when the doctors found out what the problem was.
"I had successful heart surgery and later, when I obtained the shirt signed by Tommy Fleetwood, I originally intended it to be auctioned for a British Heart Foundation event.
"That did not materialise so I gave it to David Flavell for the Silk golf day. It went for £100 but I guess if it was auctioned now, it would go for a few hundred quid!"
A member of Sandbach Golf Club, Mark, is co-owner with his wife Maxine of The Design House by Interior Motives, whose showroom and offices are in Holmes Chapel.
Mark obtained the Tommy Fleetwood shirt thanks to his HR consultant, Claire Owen, of HR Made Easy in Sandbach.
Claire, also one of Mark's clients, is a close friend of Tommy Fleetwood's wife, Clare.
For Rainer, his successful bid completed a memorable debut appearance in the Silk golf day.
A retired fruit and veg wholesaler, he was a member of the winning golf day team entered by The Brownlow Inn, a hostelry popular with golfers in the Congleton area.
The other members of The Brownlow Inn team were his son Joe, like Rainer a member of the Congleton club, and two Astbury players in Steve Davenport and Mark Taylor.
Rainer said: "It was a day to remember for me all round. The tournament was well run and the Mottram course was in excellent condition."
Mark, mine host at The Brownlow Inn, said:
"Although it was Rainer's first appearance in the golf day, we are regular supporters of Silk FM.
"Their golf day is always relaxed and enjoyable and you get to mix with golfers you would not normally meet."
Pictured: Rainer Armitt (left) and Mark Scott with the signed Tommy Fleetwood golf shirt, framed by the appealing backdrop of Mottram Hall's course.