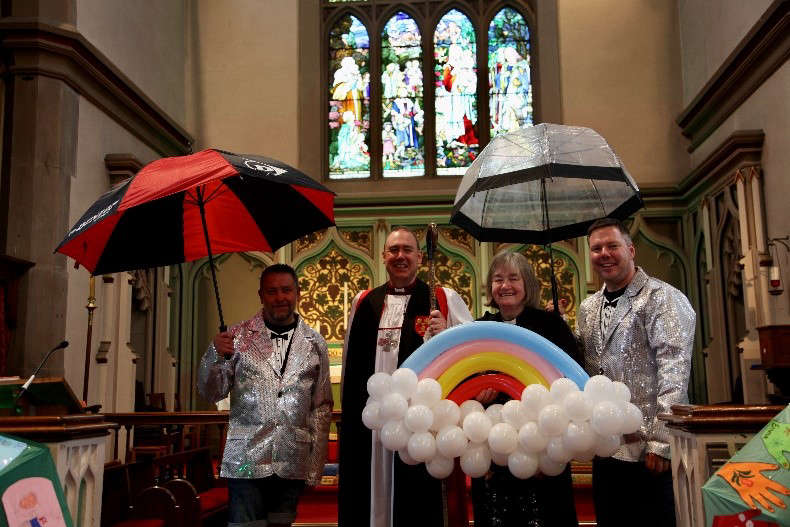 Bishop Sam, Bishop of Stockport officially launched the 'reroof, refurb, revitalise' appeal for St Paul's Church on 12th February.
The Macclesfield church which sits elevated on the east side of the town, with its landmark spire and tower visible for miles around, is facing a repair bill of approximately £650,000 to prevent further damage to the interior of the building.
The increased stormy weather over the last couple of years has led to significant water ingress into many places in the building with pronounced damage to the interior. When it rains, the church echoes to the sound of water dripping into the numerous buckets dotted around the building. Church architects, Buttress, have recommended that the work be undertaken sooner rather than later in order to prevent further long term damage to the building.
The Church and its adjacent hall are a hive of activity during the week, not only putting on regular services both for adults and young people (including our very popular parade services), but also hosting choirs, yoga & pilates classes together with the church's Uniformed groups, toddler group, lunch club and 'Warm Spaces'. By making the building watertight and improving the environment the church aims to provide an even more usable community space.
Reverend Canon Vivien Gisby, Priest-in-Charge says of the appeal launch, 'St Paul's has been around for 180 years shining the light of Christ into the parish and beyond, and the current congregation is committed to ensuring that the building will be around for the next 180 years providing a home for new generations of Christians who will continue to share the good news of Jesus. My heartfelt prayer is that we will raise the funds we need – and, as someone new in post myself, when I see the commitment and dedication of the people at St Paul's I am quite sure we will!
Even before the appeal was officially launched, donations had already been received and this has given the team at St Paul's a real boost as it presses on with fundraising to achieve the target amount. The church will look to apply for grant funding from various sources together with its own fundraising events, a whole host of which are planned in the coming months and years. As Churchwardens Matt Cooper and Nick Mottershead report, "We plan to make this project into a real community affair involving as many different people in as many ways as we can. St Paul's is an important landmark in Macclesfield and means so much to so many people, particularly as we look to see how church ministry in Macclesfield develops in the next 12 months. We want to be aligned with plans for revitalising ministry in Macclesfield together with the town's other churches. We also want to inspire people with our project so that they want to be a part of it, in order that we can build and develop our community relationships still further, both to provide a space that is welcoming and dry and more accessible for community use, but which will also ignite sparks of interest in what church is all about!"
If you wish to donate towards the appeal you can use the following link:
https://givealittle.co/campaigns/9da68a7a-9297-4ebf-8046-c78a2f4c2331
You can donate via the button on the website:
...or send a donation in the post to:
St Paul's Parish Office, Glegg Street, Macclesfield, Cheshire. SK11 7AJ marked 'Roof appeal'.
For more information on the project or to offer your skills in helping progress the project please email Churchwardens Matt or Nick on:
Pictured -Bishop Sam, pictured with Priest in Charge Reverend Canon Vivien Gisby and Churchwardens Nick Mottershead and Matt Cooper.