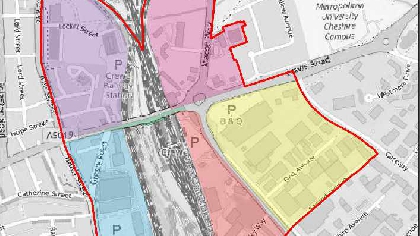 Cheshire East Council has two consultations open until 3 September on what HS2 could mean for Crewe– with exciting proposals on how its arrival will support jobs, improve the environment and make our transport network fit for the future.
he first consultation is for the Crewe area action plan, which sets out ideas for to get the most out of HS2, including:
● Where different types of development should take place;
● Ways to encourage people to walk and cycle more through improved public realm;
● How to achieve environmentally responsible buildings;
● Ways to protect the heritage;
● How to link the station to the town centre; and
● What new infrastructure will be needed to support the development.
The planning document, which looks over a 20 year timescale until 2040, will helpradically transform and regenerate the area around Crewe station. As part of this, there is a proposed package of measures to improve access to the station, which includes suggestions for better transport links, access to the town centre and road improvements.
The second consultation is for the Southern Road Link Bridge, which is one of the new infrastructure proposals under the area action plan. This new road bridge, south of Crewe Station between Weston Road and Gresty Road, would span the railway and help to reduce traffic congestion on Nantwich Road, allowing better provision for pedestrians and cyclists.
The proposed bridge location has been fixed in consultation with Network Rail. However, there are eight access options, which come with a range of different benefits and implications. All of these options, which do not impact upon residential properties, are included in the consultation so that people can have their say.
Councillor Craig Browne, deputy leader of Cheshire East Council, said: "HS2 is a massive opportunity for Cheshire East. It will bring a huge investment in our infrastructure and create the right conditions for businesses and jobs to come here.
"Crewe could be an incredibly successful place. We are working on huge investment projects that will radically transform the area, such as the Crewe Market Hall, Royal Arcade and bus station. This, along with road improvements, is all to ensure our residents fully benefit from HS2 and the increased rail connectivity that comes with it.
"To make this happen, the council has to plan carefully to anticipate opportunities that HS2 could bring and plan for how our communities will get the best out of the development here. This also includes developing an understanding of the skills and training offer locally – working with the UTC, Reaseheath College, Cheshire College South and West and existing businesses – to understand how local people can take advantage of the jobs that are expected to come to the area.
"I am sure you will agree that we need to improve the road network around Crewe and we have proposals to achieve this, and bring jobs and opportunities to our community.
"We are aware of the government's announcement of a review of the HS2 project and firmly believe in the economic and social benefits that HS2 and a hub station at Crewe would bring to the town, borough and the wider sub-region.
"The council continues to plan carefully, in anticipation of the positive change that HS2 will bring, to ensure new development is shaped for the benefit of all our communities.
"We will continue to work with government, pressing the case for HS2 with a hub station at Crewe, and look forward to the outcome of the review.
"These public consultations allow people to comment on the plan – and the proposals contained within it – in particular the proposal for the Southern Road Link Bridge. I urge everyone in the area to be involved in this consultation as this is something that impacts the future for Crewe."