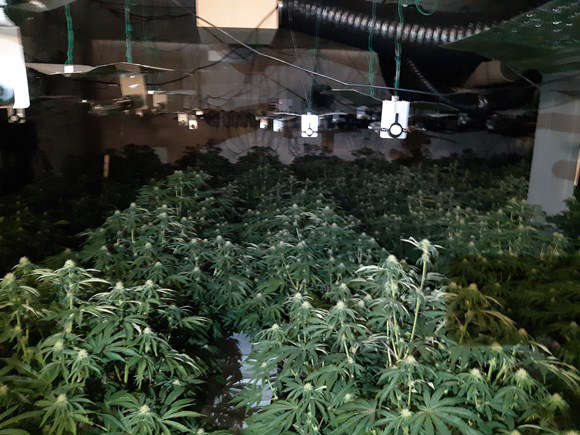 Police have arrested two men and recovered a quantity of cannabis thanks to work by the local neighbourhood policing team.
At around 5.40am on Tuesday 3 October officers executed a warrant at a warehouse on Snape Road, near to Silk Road.
They found approximately 400 cannabis plants inside the building and arrested two men, aged 38 and 46, on suspicion of being involved in the supply of class B drugs (cannabis).
Both men are currently in custody helping officers with their enquiries.
Chief Inspector Sarah O'Driscoll, of the Macclesfield Local Policing Unit, said:
"Thanks to the work of local officers we have been able to remove a significant quantity of cannabis from the streets of Macclesfield.
"The warehouse contains a large number of cannabis plants and a sophisticated set up of venting systems and electricity use to maximise the amount of class B drugs being cultivated.
"We know the negative impact illegal drug use and supply can have on communities.
"We want people in Macclefield to feel safe in their communities and we are committed to doing all we can to put a stop to this sort of activity and improve the area."
Residents are urged to remain vigilant and to continue to report any suspicions of illegal drug-related activity to the police.
There are a number signs that could indicate that a property is being used as a cannabis farm, including:
A strong and sickly sweet smell
Equipment to grow cannabis being taken into a property, such as lighting and ventilation equipment
Constantly covered or blocked-off windows – cannabis farms often have constantly closed curtains, black-out blinds or foil coverings
People coming and going at all hours or neighbours you never see
Strong and constant lighting day and night
High levels of heat and condensation – cannabis farms often give off heat and the windows stay misted up
A constant buzz of ventilation – listen out for a whirring sound as the growers try to create an ideal climate for cannabis plants to grow
Lots of power cables – offenders often dig underground to lay cables that hook up to things like lamp posts so they do not have to pay for the enormous amounts of electricity they use.
Anyone with information in relation to the discovery of the large number of cannabis plants on Snape Road is asked to contact Cheshire Police on 101, quoting IML 1659041, give the details via:
https://cheshire.police.uk/tell-us
...or contact Crimestoppers anonymously on:
0800 555 111