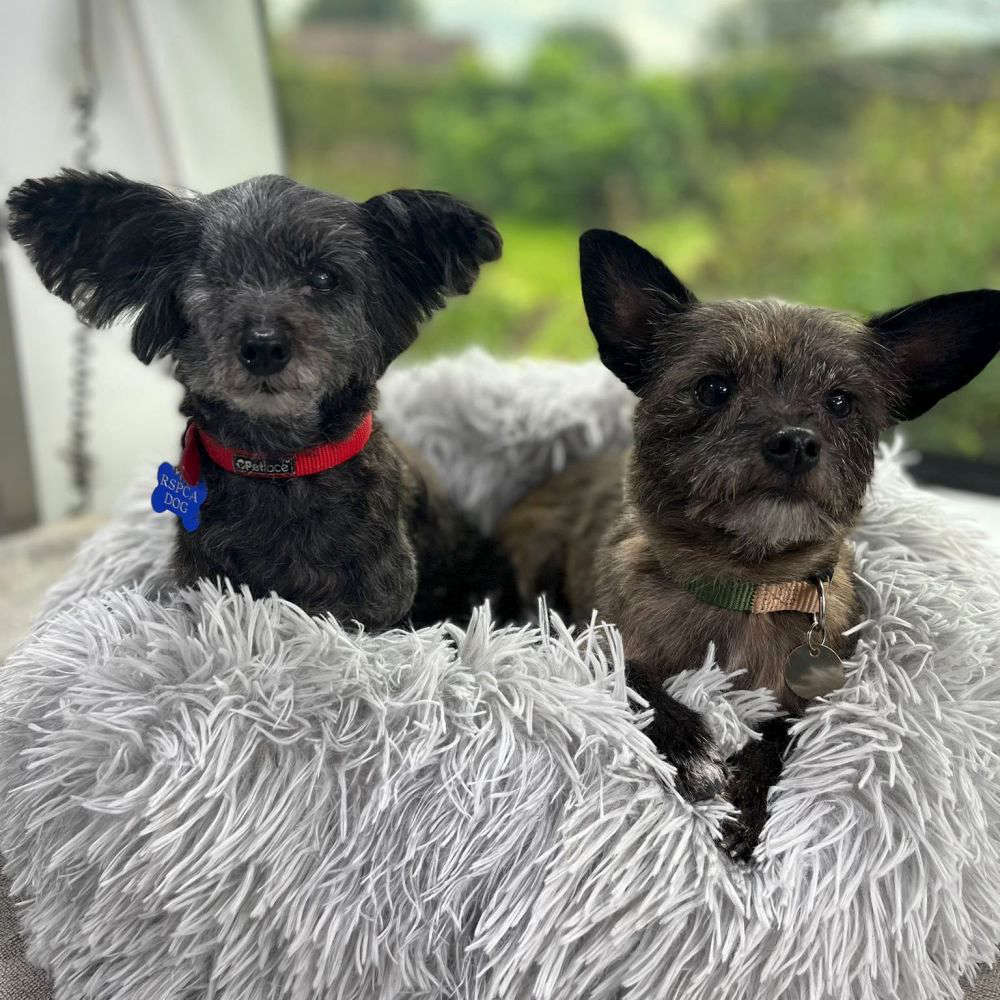 The RSPCA is appealing to find a special home for two neglected dogs who were found dumped at the side of a country road on the hottest day of the year.
The Chinese crested cross dogs, who are mum and son, were found in July on the hottest day of the year by a couple who were driving along a secluded country lane near Macclesfield.
They immediately took them to a vet who contacted the RSPCA and Inspector Caren Goodman-James investigated but unfortunately no information came to light and an owner was never found.
Both dogs were underweight, with skin conditions, flea infestations and one had a fractured leg and a severely injured eye which needed to be removed.
After their rescue, Dottie and Frankie came into the care of RSPCA Macclesfield, South East Cheshire and Buxton Branch where they have been receiving veterinary treatment and some much-needed TLC from their fosterer.
However, this mother and son duo have had no interest from potential adopters. After more than 117 days, the staff at RSPCA Macclesfield are desperate to find this deserving pair a loving home in time for Christmas.
The RSPCA is highlighting Dottie and Frankie's plight as part of the charity's Winter campaign which aims to raise funds to rescue more abandoned dogs like this - which they fear will increase due to the cost of living crisis.
Carmen Cole, branch rehoming co-ordinator, said: "Over the summer, Dottie and Frankie were the most famous dogs in Cheshire after they captured hearts when they were found abandoned by the side of a country lane in scorching temperatures. They were both in a very poor state and very frightened.
"We take in a lot of animals that are suffering but this was one of the worst cases of cruelty and neglect we'd ever seen.
"Dottie had several fractures in one of her legs, some old and some new, which had left her limping. One of her eyes had almost completely disintegrated and left her blind, we think possibly from untreated dry eye. Both dogs were both riddled with flea dermatitis, and they were severely underweight with matted, greasy coats. Frankie also had various teeth missing. It doesn't bear thinking about the life they must have had before and how someone could let them get into this poor state."
Dottie, the mum, is around eight years old and her son Frankie is about five years old.
After coming into the care of the branch, Dottie had to undergo several operations. This included the amputation of her eye and her leg, neutering, and a dental with a whopping 11 teeth needing to be extracted.
Frankie also needed a dental operation but thankfully only one tooth needed removal and he was also neutered.
Carmen added: "This pair are now in wonderful condition and it's fantastic to see them so transformed after their ordeal. Both dogs have amazing fighting spirits and they are such endearing and cheeky characters. Despite everything that has happened to them, they are such friendly and loving dogs."
Any new owner will need to be patient and mindful of everything they have been through. Frankie can be nervous around new people, particularly men, and will need to be kept on his lead as he will run off if scared by people or dogs. Even Dottie on her three legs can run quite fast if she wants to.
They will need an owner who can be around for most of the day as they do like company. Frankie is quite playful since he has finally learnt what toys are and Dottie loves to roll over and have her tummy tickled. Their new owner will need to continue their training as they are not fully house trained yet and they will also need a secure garden.
Carmen said: "Their fosterer tells us what loving and adorable dogs they are and how they are gaining confidence day by day. They are in good health now and have lots of love to give someone. They are lucky to be alive and so they really deserve their second chance at happiness now - we hope to see them in their new home before Christmas!"
If you think you can give Dottie and Frankie a loving home, please contact the RSPCA Macclesfield Branch at:
rehoming@rspca-macclesfield.org.uk
...or leave a message on:
07846 539500
As a charity, we rely entirely on donations to keep our rescue teams on the road. We're calling on animal lovers to help us make sure animals don't pay the price of the cost of living crisis this Christmas.
To Join the Winter Rescue and help our rescuers be there for the animals in need, please visit: