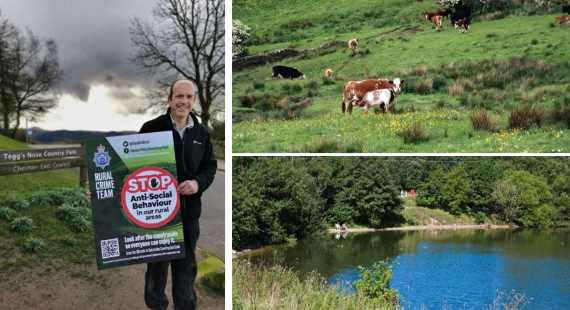 If you care about our countryside why not voice your views in a survey about rural crime?
Cheshire East Council is supporting the police and crime commissioner's search for the views of all residents and businesses about the impact of rural crime and how the Cheshire police rural crime team is performing.
With two-thirds of the borough classed as rural, crime in the countryside can affect so many people in different ways, ranging from the theft of expensive farm machinery, and other property, to dangerous driving on country roads and the risk to wildlife and livestock from dogs.
Councillor Mick Warren, chair of Cheshire East Council's environment and communities committee, said: "Our countryside is a valued asset and there is no greater evidence of its value to us all than during the Covid pandemic when so many people ventured into our open spaces to enjoy the scenery and fresh air, which offered some respite from those periods of lockdown.
"This is an opportunity to give our views on how our countryside is effectively policed, what improvements, if any, we feel should be made, or whether we are satisfied with the hard work carried out by the rural crime team, in which Cheshire East Council is an active partner through our ranger service."
Cheshire Police and Crime Commissioner, John Dwyer, said: "Rural crime has the potential to devastate livelihoods and wreck the scenic countryside we have on our doorstep. Whether we live or work in a rural area or visit there to enjoy one of Cheshire's many natural beauty spots, I believe we all have a stake in ensuring our rural areas and communities are protected."
The survey covers a wide range of countryside issues, including theft of vehicles and machinery, personal safety, anti-social behaviour, animal cruelty and many more. It will only take a couple of minutes to complete and, currently, there is no fixed end date for responses.