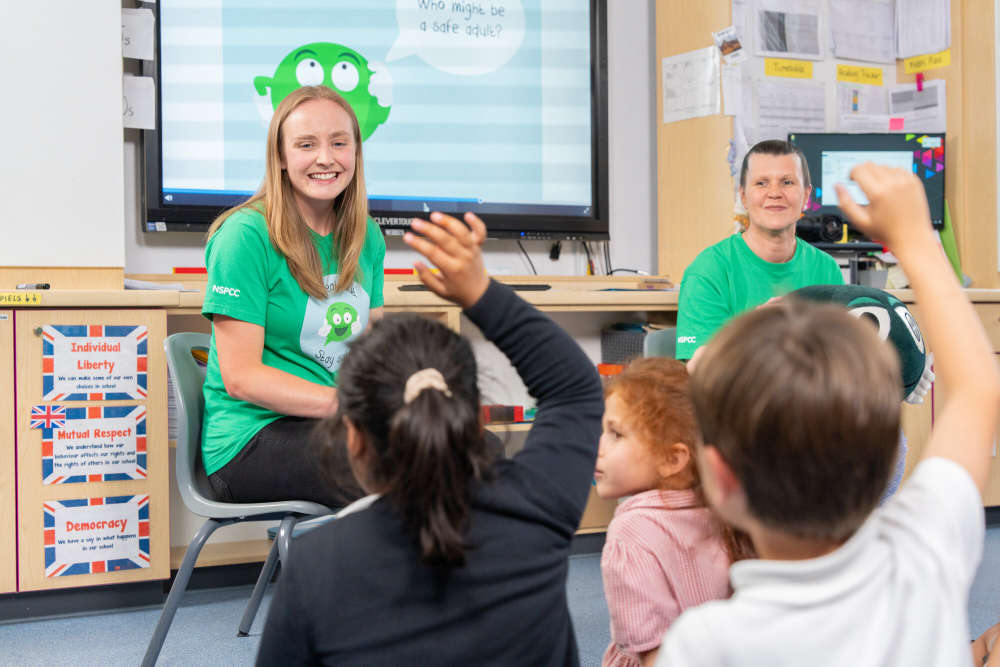 The charity is looking for new volunteers in Cheshire East and Halton, to help share its Speak Out Stay Safe (SOSS) programme in primary schools across the region.
Speak Out Stay Safe is designed to help children aged 5 to 11 understand how to recognise abuse in all its forms. Using age-appropriate language, it helps them understand that abuse is never a child's fault, that they have the right to be safe, and how to get help from safe adults and the NSPCC's Childline service.
Last year, the NSPCC delivered SOSS online programmes to over 20,000 children in more than 80 schools in Leicestershire. The charity is now looking for volunteers to train to deliver sessions in person this new school year.
Through the programme's assemblies and workshops, which are delivered by volunteers with the help of mascot Buddy, children learn about the different types of abuse and what to do if they are ever worried about themselves or a friend.
Lindsay Henretty, who lives in Cheshire, has been part of the NSPCC School Service team for eight years and gets a lot of satisfaction from the role.
She said:
"It's a great way to volunteer and make a difference. You get to meet a wide range of people and work as part of a team.
"The real joy is visiting and delivering the Speak Out Stay Safe message in schools.
"The interaction with children face-to-face is a privilege. It is so important we get the safeguarding message out to all children, so they have that vital information should they ever need it.
"The experience with the School Service is flexible, fun and definitely worthwhile."
Rebecca Stretton NSPCC School Service Coordinator for Cheshire and Halton said:
"I'm so proud of Lindsay and the team. They all have an amazing attitude and dedication to delivering this important safeguarding information to children at primary schools."
To apply to become an NSPCC schools service volunteer, please visit:
https://join-us.nspcc.org.uk/volunteers/
For further information, please contact:
volunteerrecruitment@nspcc.org.uk
About the NSPCC:
The NSPCC is the leading children's charity fighting to end child abuse in the UK and Channel Islands. Using voluntary donations, which make up around 90 per cent of our funding, we help children who've been abused to rebuild their lives, we protect children at risk, and we find the best ways of preventing child abuse from ever happening. So when a child needs a helping hand, we'll be there. When parents are finding it tough, we'll help. When laws need to change, or governments need to do more, we won't give up until things improve.
Our Childline service provides a safe, confidential place for children with no one else to turn to, whatever their worry, whenever they need help.
Our free NSPCC helpline provides adults with a place they can get advice and support, share their concerns about a child or get general information about child protection.