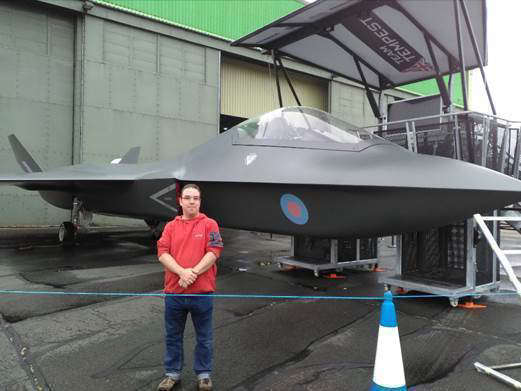 Chris Holden is up for 'Campaigner of the Year' at the 2021 Sense Awards, which celebrate the achievements of people with disabilities.
Chris Holden, from Winsford in Cheshire, has been shortlisted for an award by the national disability charity, Sense. The nomination recognises his campaigning work to tackle cyberbullying, motivated by his own experience as a disabled man.
Chris, who is 37 and autistic, has previously experienced such extreme bullying that he has attempted to take his own life. His connection with mental health group 'Rainbow After The Storm', though, helped to grow his confidence and taught him new coping skills. And it wasn't long before he became an anti-bullying ambassador for the group, helping others affected by this issue.
As part of the role, Chris launched a nationwide campaign to raise awareness about this issue and was interviewed in the press. Chris is now shortlisted for 'Campaigner of the year' at the 2021 Sense Awards.
Chris Holden said:
"It's amazing that I have been shortlisted for this amazing prize. As a young man with autism, who nearly lost my life due to bullying online, I now spend my time talking openly about my experiences of cyberbullying and hoping that I can make a change for others in that situation."
Sense Chief Executive, Richard Kramer, said:
"No one should ever have to experience any kind of bullying, but Chris has turned this experience into something positive that will help others. We're delighted to shortlist Chris as our 'Campaigner of the Year' and wish him the greatest success in his work."
The Sense Awards recognise the outstanding achievements of people with complex disabilities, as well as the staff, carers, family members, volunteers and fundraisers who support them. Winners will be announced on November 25th
.
For more information about the Sense Awards visit:
sense.org.uk/sense-awards/
Please contact Helen Patchett at the Sense press office on
07976 920 191
or email:
Sense is a national disability charity that supports people living with complex disabilities, including those who are deafblind, to communicate and experience the world. Sense supports children, young people and adults in their home and in the community, in their education and transition to adulthood and through its holidays, arts, sports and wellbeing programmes. In addition to practical support to families, Sense also offers information advice, short breaks and family events, and campaigns for the rights of people with complex disabilities to take part in life. For more information, please visit:
Pictured -

Chris Holden, from Winsford in Cheshire.