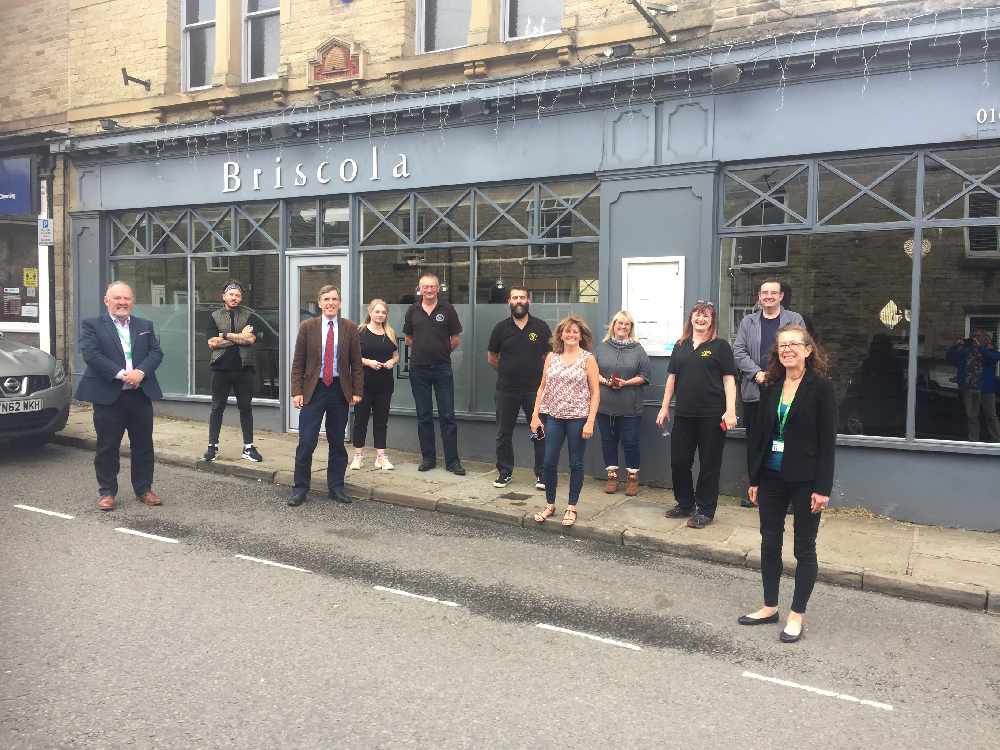 Bollington's vibrant pubs and restaurants were well represented at a recent meeting hosted by Bollington Town Council and the Bollington Business Forum with David Rutley, local MP, where supporting the reopening of the local hospitality businesses was top of the agenda.
Local pubs and restaurant owners are well known for providing a warm welcome to both local residents and visitors, as well as making an important contribution to Bollington's local economy. As lockdown restrictions have eased, pub and restaurant owners, were keen to find out more about the measures announced in the Chancellor's summer statement that have been developed to help stimulate economic recovery in the sector.
David set out the details on the VAT reduction on food, including hot takeaway food, and non-alcoholic drinks in restaurants, pubs and cafes, as well as sleeping accommodation. This temporary cut will see VAT drop from 20% to 5% from 15th July until 12th January 2021. He also explained how the new "Eat Out to Help Out" scheme will offer a 50% discount on food and non-alcoholic drinks up to £10 per person consumed on the premises on Mondays, Tuesdays and Wednesdays during the month of August.
Local businesses have been working closely with the Bollington Business Forum and Bollington Town Council, including Cllr Sara Knowles and Cllr Jon Weston, to make more space available outside local pubs and restaurants. These local plans are well advanced and are waiting for Government legislation to be passed to allow businesses to serve customers outside and increase outdoor street trading. David was able to update the meeting that the aim is for the relevant legislation, the Business and Planning Bill, to be passed by 22nd July.
At the meeting, hosted by the owners of Briscola and the Holly Bush, local businesses also explained how they have been supporting the community during the coronavirus pandemic. Some of the local pubs and restaurants, including the Poachers Inn, the Viceroy Indian restaurant, Briscola Italian restaurant, the Lord Clyde and the Windmill continued to provide service throughout lockdown by offering tasty take away menus. Tapa restaurant's chef and owner published an online cook book with the proceeds donated to NHS charities, while Love Bollington Market has been holding virtual markets.
Bollington Town Council have produced a summary of the latest government guidance for hospitality businesses, which can be found on the Town Council website at https://www.bollington-tc.gov.uk/business/covid19-support-information-for-businesses. Any local businesses that would like to join Bollington Business Forum can find out more by visiting the Forum Facebook page: https://www.facebook.com/events/298908414631323
After the meeting, David said, "I was impressed by the innovation and resilience shown by our business owners in Bollington who have been working hard to protect their businesses and local jobs in exceptionally difficult conditions. The Government and our local councils are working hard to support the hospitality sector. I will continue to work with them to help provide the best possible support to our local pubs, restaurants, cafes and B&Bs in the weeks ahead. Let's all back our local businesses at this challenging time."
Pictured - David Rutley MP with Cllr Jon Weston (far left) and Cllr Sara Knowles (far right) with local Bollington business owners.