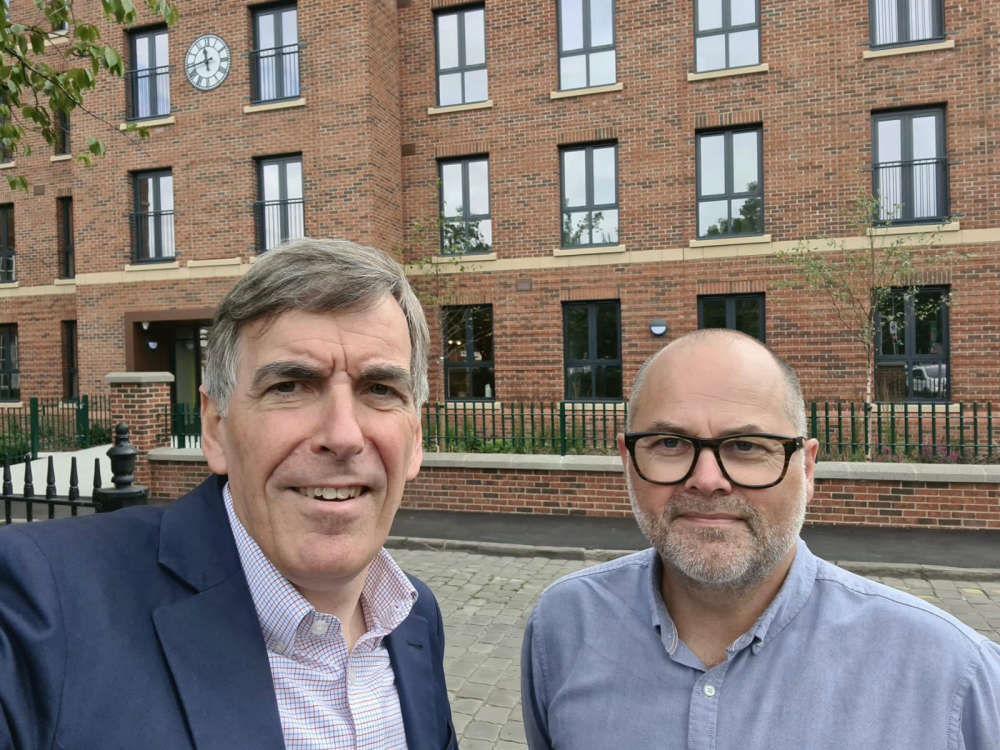 Macclesfield town regeneration was the main topic of discussion for Mark Howden, Chief Executive of Peaks & Plains Housing Trust and local MP, David Rutley during a recent tour of Sunderland Street and Macclesfield town centre.
The walkabout started at the Trust's latest residential development, Crossings, totalling 67 apartments within the town centre, a combination of one, two, and three-bedrooms. Locally, there is a real need for more choice and affordability in housing, and that is why Crossings offers Rent to Buy and Shared Ownership.
The Trust has done a huge amount to improve the area around Sunderland Street and has ambitions to do more. Having recently purchased the former 'Old Powerstation' building located on George Street, and the Trust is working on plans to see if there is potential to build more homes in this part of town.
During the tour, the importance of town centre living was discussed and the benefits this can bring for people and businesses alike. Vibrant town centres are dependent, not just on shops and restaurants, but also people and homes.
Cost-of-living challenges were also on the agenda. The support the Government is providing includes a £37 billion package to help households deal with the cost of living. This means that 8 million low-income households across the country will receive £1200 assistance over the months ahead. Building on local partnership working in our communities will also help support vulnerable people through these challenging times.
Speaking after the meeting Mark Howden said, "We believe that there is a real need for affordable options for town centre living and we are keen to work with Cheshire East Council and other local stakeholders to make Sunderland Street a great place to live, work and play."
David added, "Peaks & Plains has shown that they understand the pressures facing residents today and the transformative effect of having an affordable and stable place to call home. I am grateful for the work their teams continue to do in our communities across Cheshire East and for the significant role they are playing in the regeneration of Macclesfield town centre."
Pictured - David Rutley MP and Mark Howden, Chief Executive of Peaks & Plains Housing Trust outside Crossings on Park Green Macclesfield.