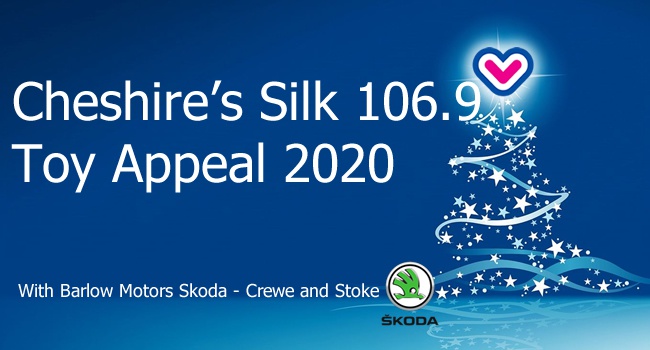 The Christmas Toy Appeal is back with Cheshire's Silk 106.9 and Barlow Motors Skoda in Crewe and Stoke and it's needed more than ever before!
We are looking for your help to buy an extra new and unwrapped toy to be donated to children who may not receive a Christmas present this year, through no fault of their own.
And every year you amaze us and children all over Cheshire Benefit from your generosity.
This year more than ever there are more Children all over Cheshire that without your help will not have a Christmas
So come on lets do this and together we can make Christmas happen for Children all over Cheshire.
when you go xmas shopping spare a thought for those children that wouldn't get any gifts through no fault of their own.
All we ask is for a small unwrapped un-used and no food based gifts to avoid allergies so we can distribute them to various children's charities all over Cheshire.
This year we are doing the toy appeal a little differently due to Covid 19, We would appreciate you taking your toy donations to an approved drop of location directly used by the Charities and if possible not to deliver any toys to our studios this way we can keep travel to a minimum.
Also when you drop off toys at the approved list below please stick to the rules below ....
*Wear a mask
* hand sanitize
*wipe down toys with an anti- bac wipe before drop off
*keep 2 meters distance while shopping and dropping off
The Charities will also anti - bac toys and their Covid 19 secure protocol on delivering toys.
*Deadline for donating gifts is 21st December 2020 this is so we can get them to the charities in time for Xmas.
Let's make the TOY APPEAL 2020 in the COVID 19 year bigger and better than ever Thank you Cheshire
You can drop off your donations to one of the nominated charity points:
Children's Centre,
Ash Grove,
Macclesfield
SK11 7TD
The Hope Centre
16-18 Park Green,
Macclesfield
SK11 7NA
Ruby's Fund
Meridian House,
Roe St,
Congleton
CW12 1PG
Waters Green Medical Centre
Sunderland Street
Macclesfield
Cheshire
SK11 6JL
Macclesfield Town Hall.
Please use the side door to drop off any donations for Cheshire East Children and Family Services
Waitrose
Church Street
Wilmslow
SK9 1AY
Nether Alderley Primary School,
Bradford Lane,
Nether Alderley, Macclesfield
SK10 4TR
Wilmslow High School
Holly Road
Wilmslow
SK9 1LZ
Fun Frogs Nursery
193 Wilmslow Road
Handforth SK9 3JX
Tesco Express Handforth Paddock
30-33 The paddock
Handforth SK9 3HQ
Mailboxes etc Water Lane Wilmslow
60 Water Lane SK9 5AJ
Andrews Pharmacy
71 Kennedy Ave
Macclesfield
SK103DE
(Mon-Fri 9-5.30)
(Sat 9-12.30)
Tytherington Pharmacy
2/3 The Shopping Centre
Tytherington
SK102HB
Mon-fri 9-6
Sat 9-1
London Road Pharmacy
Unit 1 157 London Road
Macclesfield
SK117SP
Mon-fri 9-6
Sat 9-12.30
Your donations are really welcomed to help put a smile on little faces across the county. The charities will make sure that your gifts are distributed to children in our area.
The Toy Appeal with Barlow Motors Skoda, Weston Road, Crewe and Talk Road, Newcastle-Under-Lyme and Cheshire's Silk 106.9