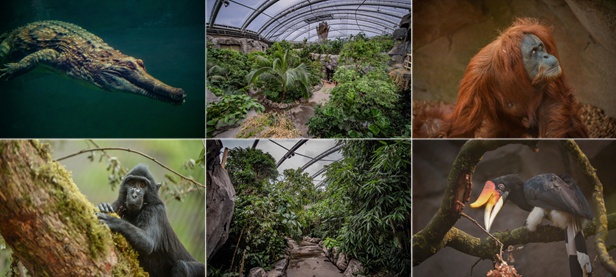 Take an exclusive look inside the Chester Zoo's Monsoon Forest before it officially reopens to visitors.
The incredible 3000m2 building is home to more than 2,600 tropical plants and 33 precious animal species, including Sumatran orangutans, rhinoceros hornbills, silvery gibbons, Sunda gharial crocodiles and tentacled snakes – a reptile that cannot be seen anywhere else in the UK. Featuring its very own weather system allowing it to 'rain indoors' and reach temperatures as high as 80°F/ 27°C, it closely replicates the climate of South East Asia.

Back in December 2018, zookeepers rescued and led many of the animals to safety while firefighters tackled a huge blaze that engulfed a large section of Monsoon Forest. At the time, conservationists worked round the clock to relocate animals to new areas within the zoo's 128 acres.
A conservation fundraising page, which was set up in response to a deluge of offers of support, raised more than £220,000 within just one week of the fire. The funds are being spent on the zoo's charitable mission to prevent extinction, specifically its work to protect critically endangered species in South East Asia.

Monsoon Forest is the centrepiece to Chester Zoo's Islands zone, which puts a spotlight on a number of highly threatened species from across South East Asia. Within Islands, visitors can set off on their own expedition, walking over bridges, travelling in boats and see buildings that are architecturally identical to those found on the islands of Panay, Papua, Bali, Sumba and Sulawesi.
About Chester Zoo
· Chester Zoo (www.chesterzoo.org) is a registered conservation and education charity
· It's home to 35,000 animals and more than 500 different species, many of which are endangered in the wild
· The zoo also supports field projects around the world and closer to home, preventing the extinction of highly threatened species
· Last year, the zoo welcomed more than two million visitors, ranking it as the UK's most visited zoo and England's most visited tourist attraction outside London
· The zoo has a vital role in inspiring and educating people about the natural world and the impact humans have on it – creating and nurturing the conservationist in us all.