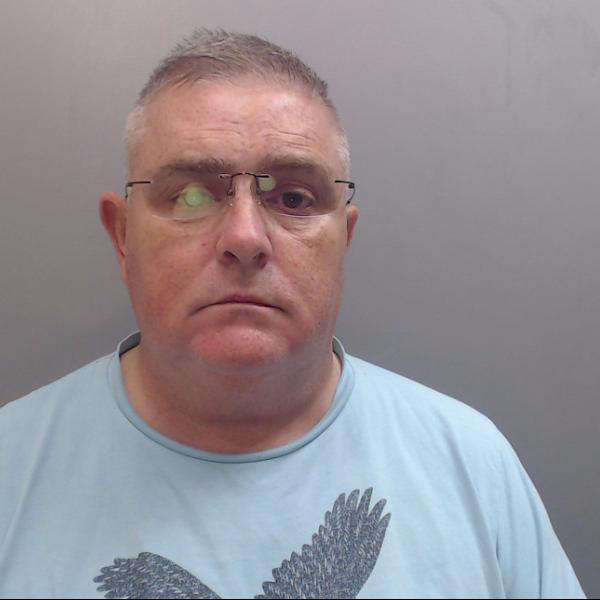 Robert Noden, of Carlisle Close, Winsford, was found guilty of 19 counts of sexual offences against children following a one week trial at Chester Crown Court.
The offences included four counts of rape of a girl under 16; two counts of committing buggery with a boy under 16; eight counts of indecent assault on a child under 14 and five counts of gross indecency on a child under 14.
The 58-year-old was sentenced to 14 years in prison at Chester Crown Court on Tuesday 17 January 2023.
During his trial the jury were told how the abuse occurred in the late 1970's to early 1980's and involved a boy and a girl who were both under the age of 14.
The offences took place when Noden, who was aged 13 - 15 at the time, was babysitting the pair.
The victims told the court how he repeatedly raped and sexually abused them, leaving them both terrified and mentally scarred.
He also threatened the children with a knife and warned them not to tell anyone about the abuse.
It was reported to police in August 2018 and following a detailed investigation, Noden was charged with the offences in October 2020.
Detective Constable Peter Taylor, who led the investigation, said: "Noden was supposed to be looking after his victims, instead he sexually abused them over several years."
"Both of the victims have suffered mentally and physically as a result of Noden's actions, and I would like to thank them for the bravery and courage they have shown throughout this case."
"Whilst they will never be able to forget about what happened to them, I hope the fact that he is now behind bars facing the consequences of his actions provides the victims with some closure and enable them to begin to move forward with their lives."
In addition to the custodial sentence, Noden was also ordered to sign the sex offenders register for life.
DC Taylor added: "I hope this case and the significant custodial sentence handed to Noden encourages other victims of sexual offences to come forward and report them to us."
"Cheshire Constabulary takes any allegation of sexual offences extremely seriously, no matter how long ago they relate to, as this case shows. Any allegation will be thoroughly investigated, with the wishes and needs of the victim being our main priority.
"Victims should never feel ashamed to talk about what they have been subjected to.
They will receive the help and support they need from our specialist officers, as well as from other support agencies we work alongside, and all victims of sexual offences have the right to anonymity for life."
For advice on identifying signs of sexual abuse, visit:
https://www.nspcc.org.uk/what-is-child-abuse/types-of-abuse

Sexual offences can be reported to Cheshire Constabulary via:
https://www.cheshire.police.uk/ro/report
... or by calling:
101

They can also be reported anonymously to Crimestoppers, via:
0800 555 111
https://crimestoppers-uk.org/give-information/forms/give-information-anonymously
Pictured - Robert Noden of Carlisle Close in Winsford.