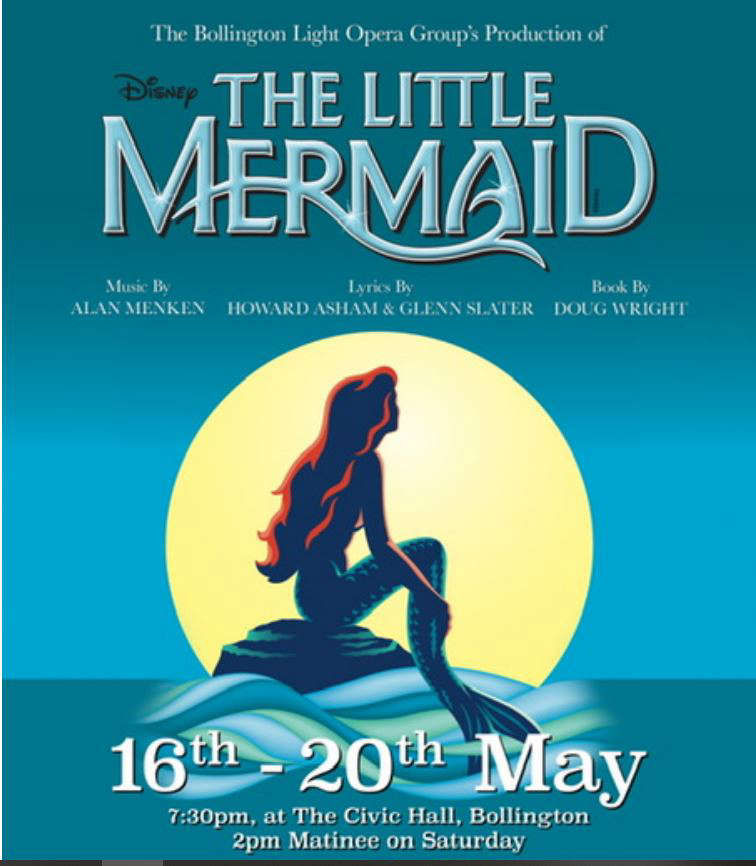 All the colour, spectacle and music of a classic Disney production comes back to Bollington in May when Bollington Light Opera Group stages 'The Little Mermaid' at the Civic Hall.
BLOG's last foray into the Disney World was ten years ago when they presented 'Beauty and the Beast'.
'The Little Mermaid' is known to millions as an animated fantasy lm and the stage show, a huge hit both on Broadway and in the West End, has only just been released to amateur societies.
The plot centres on a young mermaid Ariel, who is captivated by the thoughts of the land above the surface of the sea but cannot make the journey to the human world herself. However, she makes a deal with a villainous sea witch to travel up there where she falls in love with a prince. If she can win his heart she can stay on dry land but must do so before me runs out and she has to return below the waves.
The show is brought to Bollington by the directorial duo who produced the sell-out 'Joseph And The Amazing Technicolor Dreamcoat' last year, Matthew Gratton and Diane McIntyre. They say: "Disney shows carry their own magic which appeals to all ages, and we are determined to do this classic show justice for Bollington folk." They have assembled a strong cast featuring many established and experienced performers alongside others new to the spotlight.
Some of the best-known songs in the Disney repertoire feature in the show, such as 'Part of Your World', ' Poor Unfortunate Souls' and 'Under the Sea', under the direction of MD Ian Jones.
The show runs from May 16th to 20th nightly at 7.30 ,with a 2pm matinee on Saturday the 20th.
Tickets are available now from: