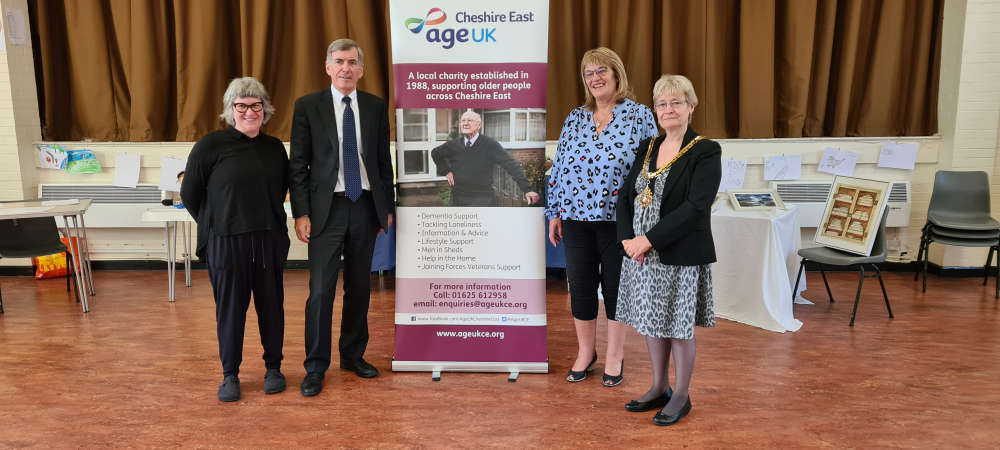 To celebrate the International Day of Older Persons on 1st October, David Rutley, MP for Macclesfield, attended Age UK Cheshire East's special event to champion older people across our communities.
David, alongside the Mayor of Macclesfield, Fiona Wilson, attended the celebration, sponsored by Macclesfield Town Council. During the event, attendees had the opportunity to participate in a variety of activities, including Tai Chi, exploring the pop-up charity shop, games such as dominoes, and a mixture of different stalls including advice and information. Free tea and cake were also on offer.
Age UK Cheshire East provides much-needed services, advice, and support to older people across communities in Cheshire East. From counselling and assisting those with dementia, to their Help at Home Team, the charity is committed to tackling isolation and loneliness and aiming to improve services and care available for vulnerable people.
Age UK Cheshire East has also received funding to support individuals with benefit checks, to ensure older people are receiving all the financial help they are entitled to. This also includes accessing advice in relation to keeping warm this winter and is part of a national programme between Age UK and energy providers including, Eon and Shell. To access this advice, the team can be contacted on 01625 612958.
The team has also developed an award-winning project, the Older Persons Scams Awareness and Aftercare Project, which works alongside Cheshire East Trading Standards, to raise awareness of scams and doorstep crime amongst local older people. It also provides much needed aftercare for older people who have been victims of such crimes.
Age UK Cheshire East can be located at New Horizon Centre, Henderson Street, Macclesfield, SK11 6RA and further information on their services can be found via the following link:
https://www.ageuk.org.uk/cheshireeast/our-services/.
Speaking after the event David said, "Age UK makes a real difference in our local community through their targeted and wide-ranging support for our older residents. It was a pleasure to attend the event in honour of the International Day of Older Persons and to see first-hand the support available, especially as we head into the winter months. I am grateful to Age UK Cheshire East for the vital work they continue to do for so many often-vulnerable people."
Pictured - David Rutley, MP for Macclesfield, attended Age UK Cheshire East's special event recently.