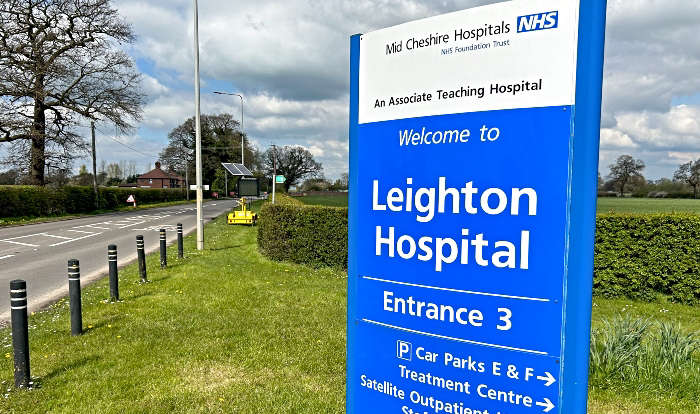 Edward Timpson, Dr Kieran Mullan, and Fiona Bruce have all welcomed the Government's commitment to rebuild Leighton Hospital by 2030 as part of the New Hospital Programme.
Leighton Hospital is one of five more hospitals constructed primarily using reinforced autoclaved aerated concrete (RAAC) set to be rebuilt by 2030 as part of the New Hospital Programme—protecting patient and staff safety.
The New Hospital Programme is now expected to be backed by over £20 billion of investment in hospital infrastructure.
More patients will benefit from a new rolling programme of investment in facilities and infrastructure, including new hospitals.
Edward Timpson CBE KC, Member of Parliament for Eddisbury, said:
"Leighton Hospital has looked after the health of our local community for over 50 years, including delivering all four of my own children!
"But, as fantastic as the people who work there are, the buildings themselves desperately need renewing to enable staff to continue providing excellent healthcare for years to come.
"This is why today's announcement that Leighton will have a new lease of life by way of a complete rebuild—off the back of our joint Conservative campaign—is so important, and is a testament to all the hard work that has gone into making the case for this massive boost to our local hospital."
Dr Kieran Mullan, Member of Parliament for Crewe & Nantwich, said:
"This is fantastic news for our constituents and the whole area. I have been supporting Leighton with its bid since 2020, and this result is a massive tribute to their tireless efforts to make the case to the Government for funding.
"I want to thank the thousands of people that signed the petition backing the campaign, which local Conservative MPs and others supported.
"Leighton Hospital does fantastic work, helping us when we are most in need. But the simple matter is that the building is long past its sell-by-date, and a complete redevelopment is required.
"Thank you again to everyone who has helped and supported this campaign. Thousands of you signed the petition calling for a rebuild, and shared your personal experiences of Leighton Hospital with us."
Fiona Bruce, Member of Parliament for Congleton, said:
"I welcome this substantial investment, which will benefit my constituents in the Middlewich area who use the services of Leighton Hospital.
"It is especially welcome given the number of new homes being built locally.
"I am delighted that the joint working of Conservative MPs across this part of Cheshire—Edward Timpson, Kieran Mullan, David Rutley and myself—in calling for improvements to Leighton Hospital have been listened to and acted on by the Government, and in such a major way."
Leighton Hospital is one of five additional hospitals being built—the others include Airedale in West Yorkshire, Hinchingbrooke in Cambridgeshire, Queen Elizabeth King's Lynn in Norfolk, and Frimley Park in Surrey.
These hospitals all have significant amounts of reinforced autoclaved aerated concrete (RAAC), a lightweight type of concrete used to construct parts of the NHS estate in the past, but one which has a limited lifespan, after which it deteriorates significantly.
Given the risks they pose to patients and staff, the Government has prioritised rebuilding these hospitals.
The New Hospital Programme is expected to represent over £20 billion of investment in new hospital infrastructure.
Health and Social Care Secretary, the Rt Hon Steve Barclay MP, said:
"These five hospitals are in pressing need of repair, and are being prioritised so that patients and staff can benefit from new major hospital buildings equipped with the latest technology.
"On top of this, I am strengthening our New Hospital Programme by confirming that it is expected to represent more than £20 billion of new investment in hospital infrastructure.
"As we approach the 75th anniversary of our fantastic NHS, this extra investment will ensure it can care for patients for decades to come and help cut waiting lists, so they get the treatment they need quicker."
Health Minister, the Rt Hon the Lord Markham, said:
"We are investing in new NHS facilities across the country, giving patients the certainty they can access world-leading care in state-of-the-art hospitals, both now and in the years to come.
"In the immediate term, we're focussing on quickly and safely rebuilding hospitals in areas which need it most—specifically those affected by this specific type of concrete, which poses a significant risk to patients and staff if not rebuilt by 2030.
"In the long term, our new standardised design means we can rapidly replicate new hospitals across the country, helping speed up construction and improving patient services faster."
Senior Responsible Owner of the New Hospital Programme, Ms Natalie Forrest, said:
"This is a significant milestone for the New Hospital Programme as we continue to progress with delivering facilities for staff and patients at the cutting edge of modern technology with the experience of those who will use these hospitals at the heart of our focus.
"We're continuing to build healthcare infrastructure that improves patient care—including modern designs, creating single rooms ensuring maximum natural light and access to outdoor spaces.
"This new design will reduce the workload of NHS staff through digital solutions, well-designed flow, and designated areas for staff recuperation.
"I look forward to continuing to work with all of the healthcare trusts included, and welcoming the new ones into the New Hospital Programme."