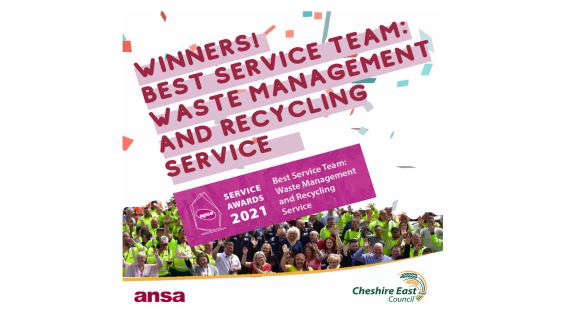 Cheshire East Council's waste and recycling service provider, Ansa Environmental Services, was voted 'Best Service Team: Waste Management and Recycling Service' at one of the UK's leading public service awards on Thursday.
The APSE (Association for Public Service Excellence) Awards, recognise the very best in local government frontline services across the UK. The event was held at the International Conference Centre in Birmingham.
The borough's waste and recycling service provider, which makes more than 13 million collections a year, triumphed following one of its most challenging years to date, when it continued to collect all three of the borough's waste streams throughout the 2020 pandemic - something many other industry providers across the country had failed to do.
Cheshire East Council's chair of the environment and communities committee, Councillor Mick Warren, said: "Winning an award at any time is a great achievement but to do so when there are such tough challenges in the industry as there are at this time, is particularly satisfying.
"I am also extremely grateful to our residents for their patience, understanding and support of the work our colleagues at Ansa are doing as well. Providing a year-round service during a pandemic is incredibly challenging and the public's backing for our efforts has been really heartening.
"I congratulate all our colleagues at Ansa on this fantastic news. Everyone working at Ansa should be immensely proud of what they have achieved."
Ansa's managing director Kevin Melling, said: "We're incredibly proud both to have won this top award and of our waste and recycling crews, both frontline and behind the scenes. Their dedication and hard work ensured that all three of our waste streams were sustained, even during some of our darkest days of 2020.
"The APSE Awards are very much the benchmark for our industry, so for our team to be recognised for their incredible efforts at this national awards ceremony is an enormous achievement for us all."
APSE National Chair Mark Pengelly, said, "The APSE Annual Service Awards demonstrate the extent to which, right across UK local government, councils are driving forwards on service improvements and placing quality at the heart of what they do.
"As a local councillor, I know only too well the value of our services to the public. It therefore fills me with enormous pride to see such high levels of ingenuity and dedication throughout the sector, especially in times as testing as these."
For more information on Ansa Environmental Services, please visit:
www.cheshireeast.gov.uk and search 'Ansa'.
For further information on the 'APSE Awards' please visit: