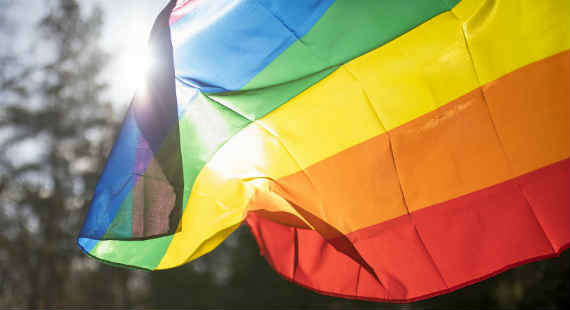 Cheshire East Council will fly the rainbow flag with pride, for the whole of February, to celebrate LGBT+ History Month.
The theme this year is 'behind the lens' – celebrating the contribution of LGBT+ people to cinema and film from behind the camera.
The month-long celebrations take place every February and mark the contribution that LGBT+ people have made to society and their communities over the years.
The rainbow flag will fly from council offices at Westfields in Sandbach, the Municipal Building in Crewe and Macclesfield Town Hall, from Monday to Friday during February. The Ukrainian flag will fly at weekends.
LGBT+ History Month is an annual month-long observation of lesbian, gay, bisexual, and transgender history. It is just over 50 years since the first Pride march in Britain.
The month is a celebration of the history of gay rights and related civil rights movements. It aims to strengthen the community and provide role models, while also spotlighting the contributions of the LGBT+ community to society.
Councillor Mick Warren, chair of Cheshire East Council's communities and environment committee, said: "I am very proud that this council supports LGBT+ History Month and that we will be flying the rainbow flag during February.
"As we've seen at the Pride events we've held since our first event at Tatton Park in 2018, whether live or virtually, we have a proud and vibrant LGBT+ community across the borough, which we look forward to continuing to be engaged with in the future.
"I am especially proud of the work of our LGBT+ and allies staff group VibranCE, which encourages members of the LGBT+ community to discuss any concerns that they have – whether in their normal everyday lives or in the workplace. Celebrating LGBT+ History Month should help us to grow that support even further."
Councillor Marilyn Houston, Cheshire East Council's member equality champion, said: "The council has made great progress in supporting those of us in our LGBT+ community in recent years.
"Pride, or Virtual Pride as it was during the Covid pandemic, has been a big part of that and continues to grow as we celebrate all our diverse communities."