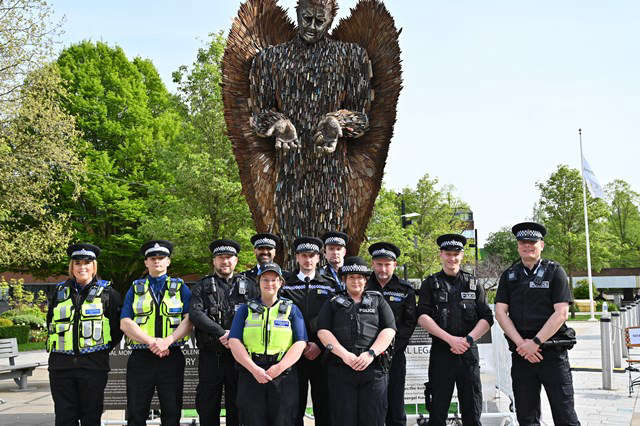 Over the past week officers from across Cheshire have intensified their efforts in tackling knife crime as part of a national week of action.
Operation Sceptre ran from Monday 15 May to Sunday 21 May, as part of a national effort to reduce the impact of knife crime in our communities.
Cheshire continues to have one of the lowest rates of knife crime nationally, with recent figures showing a 2.4% decrease in the 12 months to March 2023 compared to the previous year. However, the force remains determined to further reduce the number of bladed weapons carried in our county following a recent rise in possession offences – a result of our officers taking a more proactive stop and search approach.
This, the first of two Operation Sceptre weeks for 2023, has been an opportunity to highlight the great work conducted by our officers as the force continues to strive toward creating a weapons-free Cheshire.
Superintendent Andy Blizard, who is the force's Knife Crime Lead, said:
"We are extremely proud that Cheshire continues to see low levels of knife-related incidents, especially as knife crime is a growing issue nationally.
"However, having recently stepped up our approach to stop and search, we have seen a significant rise in people possessing bladed weapons; this mentality of needing to carry a knife to feel safe is something that Operation Sceptre has played a significant part in challenging.
"At Cheshire Constabulary we have a structured prepare, protect pursue and prevent approach for tackling knife crime that involves working with our various partner agencies, including local authorities, third sector organisations, youth representatives and community groups.
"The national week of action has been an opportunity to showcase the hard work of our officers and the initiatives we deploy to tackle the use of knives and other weapons."
As part of Operation Sceptre officers from across the county have stepped up their efforts in directly tackling knife crime.
Knife sweep operations conducted in parks and residential areas yielded positive results, with only two blades being recovered during 31 individual county-wide sweeps.
As well as this, our officers conducted 77 stop searches under Operation Sceptre, with 10 knife-related arrests being made as a direct result.
John Dwyer, Police and Crime Commissioner for Cheshire, added:
"Preventing and tackling crime is a priority in my Police and Crime Plan and each knife that has been surrendered or recovered by the police during Operation Sceptre could represent a life saved and contributes to making Cheshire an even safer place.
"Operation Sceptre provides an opportunity for agencies to come together to address the problem of knife crime, acting as a force for wider societal change. Knife crime isn't something the police can tackle on their own, so the engagement between local policing teams, schools, community groups and businesses will make it even more achievable."
This Operation Sceptre week has also seen some great engagement from our wider Cheshire community and partner organisations.
Over the course of the week, the force has seen over 180 bladed weapons voluntarily surrendered by members of the public to the 40 plus knife surrender bins located across the region.
In Chester, officers from the Local Policing Unit displayed several seized knives and weapons during a drop-in knife awareness session in the city centre. The public were shown a vast array of weapons that were seized or surrendered in the pursuit to keep these articles off the streets - with weapons such as machetes, axes and 'zombie' knives on display.
Officers from Macclesfield North and Poynton also saw overwhelming turn out from the Disley community with over 90 knives voluntarily handed over to police.
In Crewe, the current home of the Knife Angel sculpture, officers from the Local Policing Unit have been working alongside the Safer Cheshire East Partnership and the CrimeBeat charity in providing a programme of activities during the Angel's residency in the town, in which Operation Sceptre week fell.
Over the last month, the Perception Theatre Company has visited several schools and colleges across Crewe to deliver productions of an original knife crime-centred production written in partnership with constabulary; students from South Cheshire College have been designing artwork for public buildings to promote the Angel's message of non-violence.
More recently, Crewe LPU has partnered with the KnifeSavers organisation and has acquired the funding to rollout a number of ambulance-grade Bleed Control Kits to establishments across the town, with training provided to those wishing to get involved.
In several taster sessions that took place during Operation Sceptre week, Crewe officers invited youth and volunteer groups, colleges and local businesses to join them for an in-depth training session on how to treat knife wounds of all severities, ranging from minor lacerations to wounds that cause severe bleeding and internal damage.
Sergeant Steve Tandy of Crewe Local Police Unit, said:
"With the Knife Angel having returned to the county this month, along with the launch of Operation Sceptre last week, there has been no better time to highlight the outstanding efforts from our officers in keeping knife-related incidents across our region low.
"The recent securing of funding to distribute of these several game-changing Bleed Kits to several organisations across Crewe, we can limit the number of any potential fatalities or life changing injuries at the hands of knife crime."
Cheshire CrimeBeat, the official charity partner of the Knife Angel's residency in Crewe, has set up a community JustGiving page with donations going directly to regions projects that prevents and assists victims of crime and helps protect vulnerable and at-risk young people.
The charity has been frequently supported by both Cheshire Constabulary and the High Sheriff of Cheshire since its formation in 1998 and has directly supported over a quarter of a million young people in our region to date.
To report any type of crime involving weapons call Cheshire Constabulary on 101, or 999 in an emergency.
Information can also be passed to the force online via:
https://www.cheshire.police.uk/contact/general-enquiries.
Anyone who knows someone that carries a knife can report it to Crimestoppers, anonymously, on 0800 555 111.
Pictured - Crewe officers with the Knife Angel.