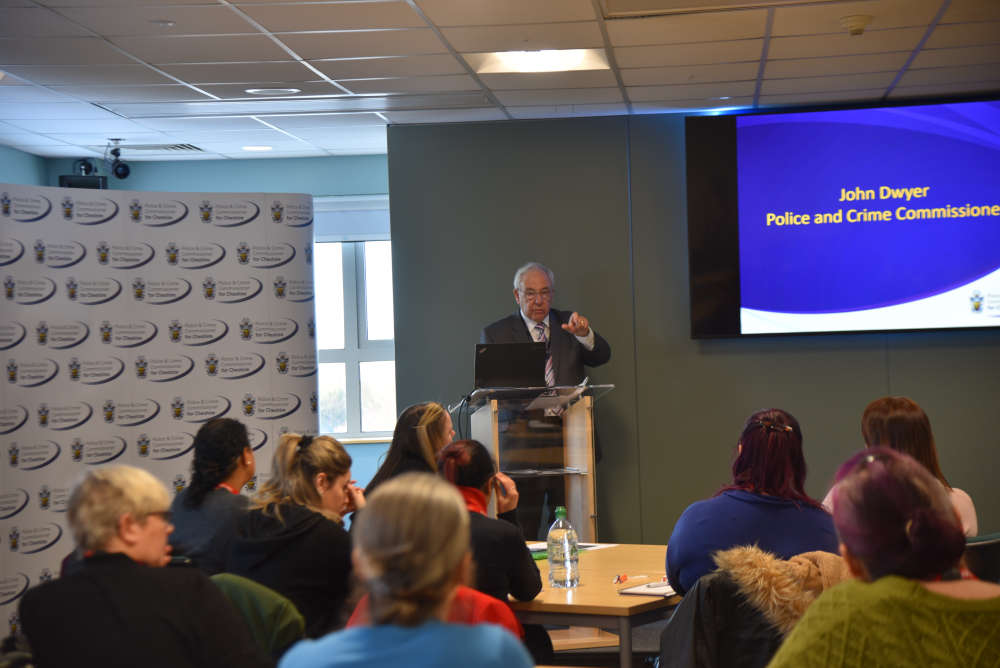 On Wednesday, 18 January the county's commissioned service providers were brought together at Cheshire Police HQ for a 'Share the Practice' event.
Since Police and Crime Commissioner for Cheshire John Dwyer was elected in 2021 nearly £9 million of additional funding has been secured, allowing further investment in a wide range of specialist services for victims and projects to prevent and tackle crime.
The event was attended by all services currently commissioned around Domestic abuse and Sexual Violence, as well as the Commissioner and Cheshire Constabulary officers. Providers were able to detail the support that they offer directly to victims and how they can be accessed by those in need.
The event gave providers the opportunity to share information about how referrals can be made, and to encourage cross-service referrals so victims get the best support from the right service. The importance of this was highlighted in the most recent Victim Needs Assessment as a recommendation and it is a priority for the Commissioner.
Police and Crime Commissioner for Cheshire, John Dwyer, said:

"It has been fantastic to hear from all the commissioned services and to get an insight into the vital work that they do to support the public of Cheshire. My Police and Crime Plan outlines the priorities for policing in our county, including delivering justice for victims, and this is reflected in the range of services that I commission.

"Events like this demonstrate that there is support in place in Cheshire for those in need. I am proud of the services that are available in our county and I am committed to continuing this work to secure every possible pound to protect and support victims."
The event was also an opportunity for Cheshire Constabulary to share an update on the latest Safer Streets project, which follows the Commissioner's successful bids to the Government's Safer Street fund for a total of £1.5 million. The money is being used to support measures to protect people within the night-time economy, including Safety Buses which have on-board equipment such as first-aid kits, defibrillators and phone chargers for those feeling vulnerable or needing assistance.
The work of the Safer Streets projects addresses the Violence Against Women and Girls agenda and whilst separate to commissioned victim services, there are many aspects of this work which will look to increase support for victims and aims to enhance services for victims of crime in Cheshire.
Officers from the newly formed Area Investigation Teams also attended the event to hear about the support available for victims and to understand the options to help perpetrators of crime to change their behaviour.
This is timely given the new reform expected later this year to reduce the number of Out of Court disposals – ways of resolving a crime between the victim and perpetrator outside of court - and the creation of Diversionary Cautions and Community Cautions, which will give Officers greater ability help to provide quality outcomes for victims and rehabilitate reoffenders.

More information on commissioning in Cheshire is available at:
www.cheshire-pcc.gov.uk/what-the-commissioner-does/commissioning-and-grants/
For information about commissioned victim services, go to:
www.cheshire-pcc.gov.uk/what-the-commissioner-does/supporting-victims/
Pictured - Police and Crime Commissioner John Dwyer at the Share the Practice event.