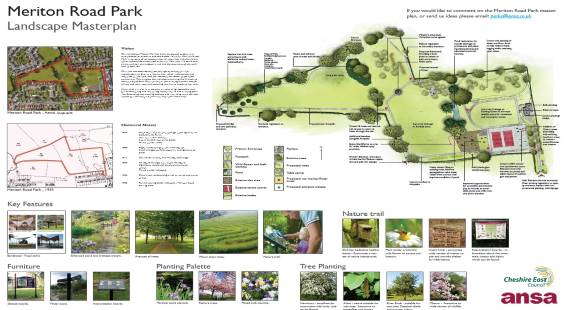 Cheshire East Council – in partnership with the Friends of Meriton Road Park – has developed a landscape masterplan in Handforth to provide local residents and visitors with a rejuvenated outdoor space to enjoy.
The hugely aspirational proposal would involve transformative work to Meriton Road Park, which could include new trees being planted, a new footpath and a nature trail. The masterplan has been developed to provide a comprehensive achievable vision for the park in relation to its location and natural resources.
The majority of the projects that will form the plan's delivery will be sourced via external funding. This plan will serve as a framework for the long-term use and development of the park and its facilities.
Above all else, the council's aim is to develop a welcoming, accessible park for all, which can be achieved by restoring and improving infrastructure and existing facilities and enhancing and creating habitats, providing more flexible spaces for recreation, community activities and events.
Councillor Mick Warren, chair of Cheshire East Council's environment and communities committee, said: "This is really positive news for residents in Handforth, the surrounding areas and visitors coming to the town.
"With the summer in full swing, now is as good a time as ever to encourage people to enjoy our borough's beautiful outdoor spaces. This plan, when delivered, will provide an even greater incentive for people to use them."
Comments, questions or ideas about the Meriton Road Park masterplan are all welcome and can be sent by email to:
To know more about the plans, please visit: