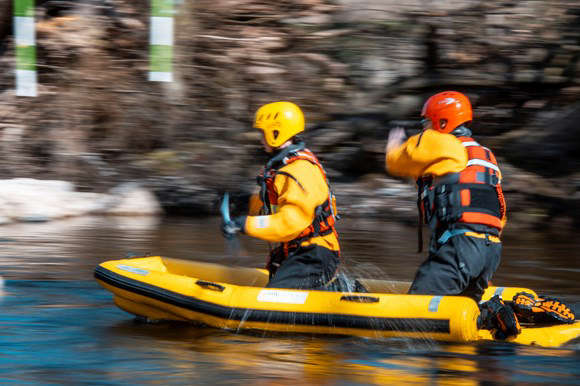 Cheshire Police are working with Cheshire Fire and Rescue Service to warn residents not to be tempted to cool off in open water, unless with a supervised open water swimming club.
Open water poses many risks, from strong currents to ice cold water or weeds and unknown objects which can get you into difficulty.
Inspector Brian Green said: "Already this summer residents and passers-by have contacted us to raise concerns after seeing people jumping off a bridge into the River Weaver in Frodsham.
"Thankfully, no one has come into serious difficulty this time, but I want to warn people that it is dangerous to swim in open water.
"We know people will be increasingly tempted with the warmer weather but we would urge you to think again. If you need to cool off, use swimming baths or a lido or join a local open water swimming club."
Group Manager Steve McCormick from Cheshire Fire and Rescue Service said: "I want to encourage parents to warn their children of the dangers of entering open water, to only swim in designated swimming areas and to follow simple water safety advice.
"The water may look calm on the surface, but there can be strong undercurrents that could pull even a strong swimmer under the water. There is also the risk of cold water shock. The water may feel warm on the surface, but just a few feet below the surface it can be icy cold, which can affect stamina and strength of swimmers, or shock the body into a cardiac arrest."
Inspector Green added: "We're not trying to ruin your fun, we're trying to keep you safe – we don't want to be knocking at your family's door with tragic news about a loved one. So think before you swim and find out more about keeping safe near open water by visiting:
https://www.cheshirefire.gov.uk/public-safety/campaigns/outdoor-safety/water-safety "
Anyone who sees somebody getting into difficulty in the water is urged to call emergency services on 999.
Do not attempt to enter the water yourself.