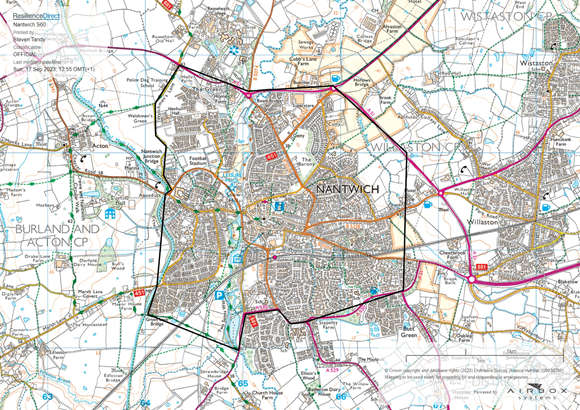 Officers in Nantwich have been given more powers to stop and search anyone they suspect of carrying a weapon.
It follows a number of incidents over the past week of threats and criminal damage in the town, mainly involving youths.
The powers have been granted temporarily under Section 60 of the Criminal Justice and Public Order Act (1994).
The order means that officers can stop and search any person or vehicle they believe may be carrying weapons or causing serious violence in a particular area, whether or not they have any grounds of suspicion.
The powers will be in place from midday today (Sunday 17 September) and remain in place until 7am tomorrow morning (Monday 18 September). It applies to all of Nantwich town centre and much of the surrounding area of the town, as displayed on the mapped area.
Detective Chief Inspector Danielle Knox said:
"We've seen a number of increasingly concerning incidents involving a group of young people in the town, intimidating residents and causing misery for businesses and those working in Nantwich.
"Imposing this order is one of the ways in which we are tackling this issue and we're working hard to identify and locate those responsible.
"Along with the order, there will be an additional police presence across the town and anyone believed to be causing disruption in the community will be targeted.
"Anyone who has any concerns about this – or, indeed, any information that can help us – please speak to an officer."
If you have information about someone who is carrying a weapon, please call Cheshire Police on 101 or provide information online:
Provide more information about an appeal | Cheshire Constabulary
You can also provide information anonymously through Crimestoppers by calling:
0800 555111
If a crime is taking place, dial 999 immediately.
Pictured - A map of Nantwich showing the area of the town covered by the Section 60 order.