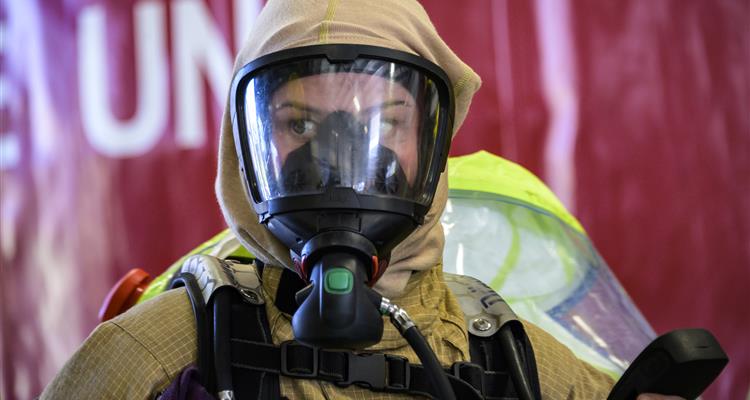 At a special awards evening at De Vere Cranage Estate recently, 10 firefighter and community apprentices, two High Potential Development Scheme (HPDS) graduates and 12 migrating on-call to wholetime firefighters were officially welcomed into their new roles with Cheshire Fire and Rescue Service.
Families and friends, the High Sheriff of Cheshire, Robert Mee DL, and Chair of Cheshire Fire Authority Cllr Bob Rudd joined CFRS officers and staff to see them receiving their certificates from Chief Fire Officer Mark Cashin.
The 10 firefighter and community safety apprentices have been working in the community with CFRS Prevention teams and undertaking firefighter training. Work in the community is an essential part of the Service's commitment to keeping the residents of Cheshire safe. This is an integral component of the apprenticeship scheme but, for this team, they have had the additional impact of Covid and the effect it has had on Service delivery and rose to the challenge admirably.
The two High Potential Development Scheme graduates have completed their initial firefighter training course. This is the first stage of their journey on this bespoke programme offering fast track from firefighter to station manager and, possibly, beyond. They will be undertaking a series of leadership roles and can look forward to rotating into other positions within the Service, gaining experience in departments such as Operational Training and Protection.
The 12 'migrating' firefighters began their new careers as members of on-call crews around the county. It takes a very special kind of person to become an on-call firefighter, a desire to serve and give something back to their local community. Their experience on-call has led to their decision to make full time firefighting their career.
During the ceremony an overview of what the apprentices experienced throughout their 21-month training programme was given by course lead Kirsty Hornby with Apprentice firefighter Alyx James and HPDS graduate Michelle Davis presented a plaque to Kirsty on behalf of all the trainers.
Chief Fire Officer Mark Cashin said: "As Chief Fire Officer I am extremely proud of all our staff, both operational and support, and never more so than of those being honoured at the event. Everything they have achieved has been accomplished despite the challenges of Covid and I was honoured to be able to present them with their certificates".
The Service is currently accepting applications for the next cohort of Firefighter and Community Safety Apprentices, with the application window remaining open until midday on Monday 27th September. For more information or to apply go to: