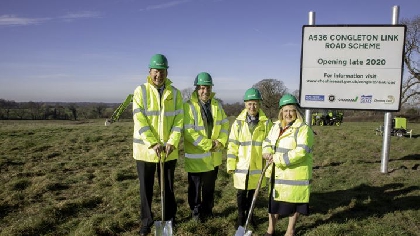 The construction of Congleton Link Road started today at an event attended by Cheshire East Council's leader councillor Rachel Bailey, transport minister Jesse Norman MP, and Congleton MP Fiona Bruce.
The £90m project is seen as a major economic driver for the town, with the potential to create 3,000 jobs, 2,400 new homes and 20 hectares of new employment land to attract new businesses, all of which could deliver £13m into the local economy.
It's a big change to the landscape and to mitigate the impact, the council are planting over 10 hectares of woodland and shrubs including 381 new trees, 16km of hedgerows, 33 hectares of new grassland and creating six new ecological ponds.
In the opening year, in the rush hour, journeys across Congleton are expected to take about six minutes less than currently and air quality assessments show there will be some significant improvements throughout the town centre including Rood Hill and West Road.
The route for the link road will run to the north of the town, south of Eaton. It will link the A534 Sandbach Road, near its junction with Sandy Lane, to the A536 Macclesfield Road, near its junction with Moss Lane and provide a new crossing at the river Dane.
It will also create improved road connections to both Congleton Business Park and Radnor Park Trading Estate. The scheme attracts strong local support – with calls for a bypass around the town going back 30 or 40 years.
Cheshire East Council is contributing £24m towards the construction project, with the balance coming from central government and developer contributions.
Councillor Bailey said: "I am delighted that we are beginning this very important road scheme for our borough today. I'm also thrilled that we were successful with our business case, which has resulted in £45m of the project funding coming from government funds.
"This council started developing a proposal for a new road around Congleton to match our growth plans back in 2012 and what we have achieved here is a scheme that doesn't just enable our development plans; it complements, shapes them and levers in over £20m of private sector transport investment into Cheshire East."
"This is the biggest capital project the council has ever done; and it is a credit to the strategic infrastructure team and all those involved that we have managed to deliver this scheme from just a concept in 2012 to where we are today, about to start work, just a few years later, I know it has been challenging at times. This must be some sort of a record for a highway scheme, some of which can take 20 years to deliver."