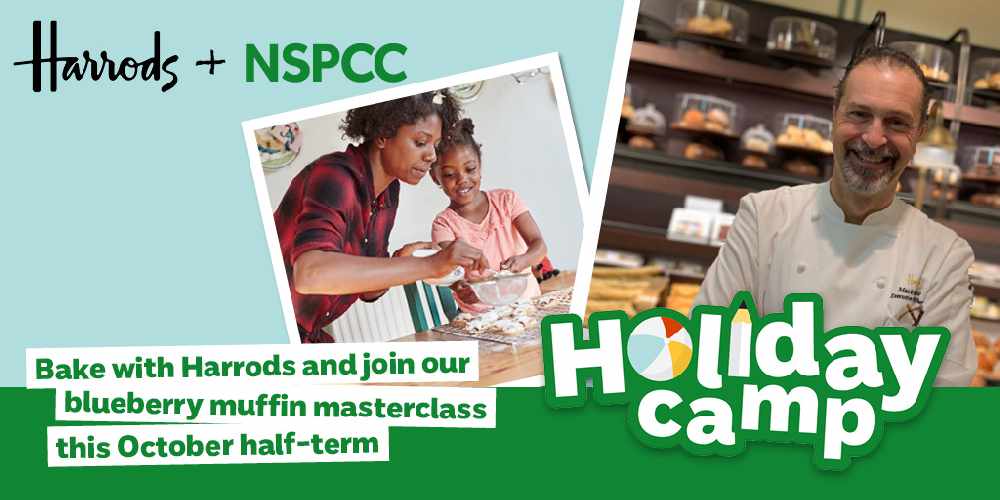 This half term, it could be difficult to get out and take part in the usual activities you'd enjoy with your children, but if you're looking for some virtual fun you can have from your own home while raising money to support children across the UK, the NSPCC has a few suggestions which could help.
If your young one loves baking, the NSPCC has enlisted the executive pastry chef from the iconic London store Harrods, for a masterclass on how to bake his special blueberry muffins.
The exclusive online half-hour class with professional baker Markus Bohr takes place at 11am on Wednesday, October 28, and he'll take you through a step-by-step process to make muffins worthy of the world-famous department store.
Tickets are free, but there's also an option to donate to support the NSPCC. Details of the ingredients you'll need and how to book a place on the online masterclass are available at www.nspcc.org.uk/holidaycamp
Also on Wednesday, October 28, we're welcoming children's author and illustrator Sophy Henn for an exclusive reading of two of her stories and a masterclass in animal illustration.
Aimed at primary school-age children and their families, Sophy will read Pass It On and Super Duper You – stories about sharing joy and understanding different moods and feelings.
All you'll need to take part is your favourite pen or pencil, some paper and your imagination. Again, places are free, but you can also donate to support the work of the NSPCC here: www.nspcc.org.uk/holidaycamp
If you and your little ones have a pooch you'd like to show off to a sporting superstar, why not enter the NSPCC's virtual dog show?
Entry costs £4 - the price of one call to Childline – and the competition will be judged by rugby legend Sam Warburton, with dog owners from across the country urged to send in pictures of their dogs to win Best In Show under several categories: Best Rescue Dog, Dirtiest Dog, Best Puppy, Best Veteran (over nine-years-old), funniest dog, and Dog We Have Loved – as a tribute to dogs owners have had to say goodbye to. Video clips can also be submitted for Waggiest Tail and Cleverest Dog.
The virtual dog show is open until Sunday, November 8, and the winners of each category will win a £25 voucher and a rosette and cup will be presented to Best In Show.
To enter, donate and access the terms and conditions of the competition, visit www.justgiving.com/fundraising/sthilaryvirtualdogshow or entries can be sent to sthilaryvirtualdogshow@nspcc.org.uk
Entries should be titled and include a name of the dog and photographer, age (if under 18 years old), and category. People can only enter one picture per class.
And if you're more of a craft person than a dog person, our fundraisers in Oxfordshire have launched their very own Little Green Hearts campaign, for which you'll need little more than a few bits of paper and your imagination.
Little Green Hearts was originally started by The Knitting Network, and encourages crafters to create their own decorative green hearts and use them as decorations or display them in a window to show their support for the NSPCC.
You don't have to be a knitter to take part, just cut out a template from The Knitting Network, then decorate it with anything green from around the house, hang it in your window and make a donation of your choice to the group's JustGiving page.
Like all the NSPCC's virtual half-term events, it's open to anyone from across the country, and you can share your creations on social media using the hashtag #NSPCCLittleGreenHearts.
Rachel Walker, NSPCC volunteer engagement officer, said: "We know how difficult this year has been for children and families across the UK, so we're really pleased to be able to offer some light-hearted activities this half term.
"Throughout the pandemic, the NSPCC has remained still here on the frontline for children, and with your support through the winter months, we can ensure we keep providing our important services for children. Whether you're baking a muffin, decorating a paper heart or taking fun pictures of your dog, these events will give you a chance to have fun with your children and while the events are all free, you can make a donation to support the NSPCC and every single pound you give will help children and young people right across the country."
About the NSPCC:
The NSPCC is the leading children's charity fighting to end child abuse in the UK and Channel Islands. Using voluntary donations, which make up around 90 per cent of our funding, we help children who've been abused to rebuild their lives, we protect children at risk, and we find the best ways of preventing child abuse from ever happening. So when a child needs a helping hand, we'll be there. When parents are finding it tough, we'll help. When laws need to change, or governments need to do more, we won't give up until things improve.
Our Childline service provides a safe, confidential place for children with no one else to turn to, whatever their worry, whenever they need help.
Our free NSPCC helpline provides adults with a place they can get advice and support, share their concerns about a child or get general information about child protection.