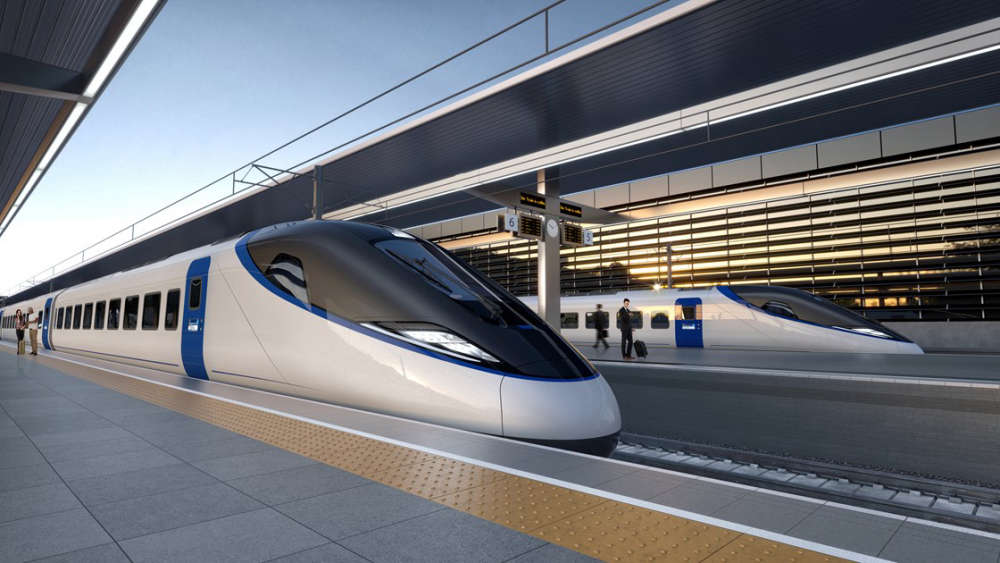 Crewe's status as the 'Gateway to the North-West' received a huge boost today (24 January 2022) as the Bill for the Crewe – Manchester extension of the HS2 network was submitted to Parliament.
The new 85km (52 mile) route, which includes new high-speed stations at Manchester Airport and Manchester Piccadilly, also provides the critical infrastructure required for Northern Powerhouse Rail, supporting the potential for more high-speed services to stop at Crewe in the future.
Alongside the submission of the 'High Speed Rail (Crewe – Manchester) Bill', which seeks powers to construct and operate HS2's Phase 2b Western Leg, HS2 Minister Andrew Stephenson MP responded to the 2020 public consultation, where Crewe residents were asked to give their views on a series of proposed design refinements.
In his response, Mr Stephenson confirmed that plans for the Crewe Northern Connection (a new junction north of Crewe) will be included in the Phase 2b Western Leg scheme design, enabling the benefits of Northern Powerhouse Rail and the Crewe Hub to be realised. Crucially, this infrastructure could allow up to seven high-speed trains per hour to call at Crewe as part of a future NPR scheme.
Plans to modify the design of HS2's Crewe North Rolling Stock Depot, to provide stabling and maintenance facilities for HS2 trains and support the efficient operation of the new zero carbon high-speed network, were also given the green light by Mr Stephenson. Once operational, the depot will support around 100 permanent skilled jobs, representing a further boost for the town following last month's confirmation that the bogies for HS2's fleet of 54 state-of-the-art high-speed trains will both be assembled and maintained at Alstom's Crewe facility.
Construction of the Crewe – Manchester network will follow a clear aim of becoming the first major infrastructure project to deliver a net gain in biodiversity, as part of the Government's promise to 'Build Back Greener' and leave the environment in a better position than before construction works start. Coupled with this commitment, HS2 will provide a cleaner alternative to long distance car journeys and domestic flights with its fleet of trains, partly constructed in Crewe, all set to be powered by zero carbon energy.
Residents and business owners in Cheshire are encouraged to have their say on two key documents that accompany the Bill. A public consultation, seeking views on the Environmental Statement and the Equality Impact Assessment, will begin shortly after Bill deposit and close on 31st March 2022. The aim of the consultation is to ensure that Parliament is aware of the public's views on the environmental impacts of the scheme before they vote on the principle of the Bill at Second Reading.
Leonie Dubois, HS2's Head of Consultation and Engagement said:
"Communities in Cheshire have played a pivotal role in helping us reach this milestone moment and I encourage them to get involved and have their say in the latest public consultation.

"With construction of the Crewe – Manchester extension of HS2 forecast to support 17,500 jobs, and even more local employment opportunities at the new rolling stock depot and Alstom train maintenance facility. This is certainly an exciting time for Crewe."
For more information about the Bill and the documentation supporting the public consultation, visit: