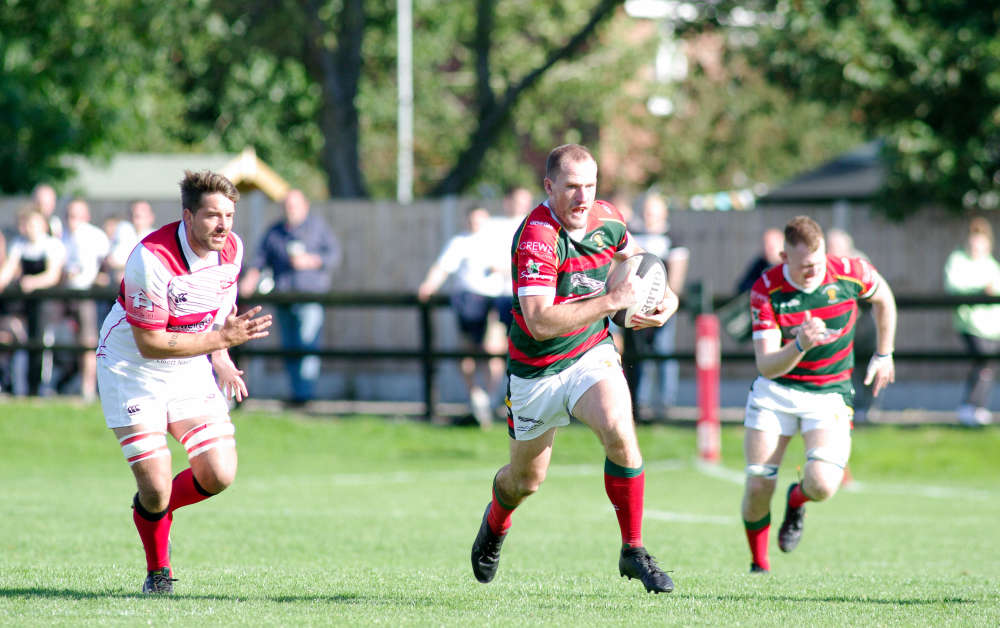 Match report from yesterday's game for Sandbach RUFC, who were away to Dudley Kingswinford.
It would be fair to say that the final score line was not a true reflection of the game, as Sandbach scored two late converted tries to pull away, in what for most of the afternoon, had been a tight contest. Sandbach took advantage of a couple of yellow cards for the home outfit to edge ahead midway through the second half, then as DK chased the game, they were able to apply the killer punch, to come away with a vital try scoring bonus point to boot. There are still clear areas where work needs doing for the boys in green and red, but the winning formula continues, which sets them up nicely for the visit of Newport next week and a top of the table clash.
The game marked the 350th 1st team appearance of club stalwart Mark Bird, who led the team out on a sunny afternoon, which also saw Swansea University student Harry Hughes make his debut at this level, with regular 2nd row man Pat Sherratt being ill all week. Sandbach were soon on the scoreboard with a Will Cargill penalty, but this was quickly equalised by DK's Sam Vaughan. There was a further exchange of penalties and with five minutes to go before the interval, it remained six apiece, with both defences looking tight. Sandbach eventually broke the deadlock from a rare piece of quality lineout ball, Hughes made ground down the middle and quick ball put winger Jack Leech through a hole, as he sliced through for the opening try. The normally trusty boot of Cargill missed the conversion, giving DK enough time to reduce the deficit with a third penalty goal before the break, to close the half with the Bach just 9 v 11 ahead.
Sandbach didn't start the second half too well as they once again muffed their lines with the kick receipt to concede the ball, then suffering a further blow as key man Josh Brookes sustained a leg injury. Dudley Kingswinford exposed the subsequently disorganised defence and after a few forward surges, spun it wide for the blind side winger Walker to score out wide. The home team lead was to last just five minutes as their scrum was shunted off their ball and the ensuing Cargill penalty evened it all up at fourteen a piece.
Brookes left the field unable to carry on after his injury, which saw young Callum Oakden making his debut and he instantly made an impact. DK then lost second row man Nicholls to the bin for a lineout infringement, which was quickly followed by another for a deliberate knock on. Smelling blood Jack Leech scored his second from a swift counterattack which Cargill converted, but Dudley Kingswinford hung in as Sandbach were penalised for holding on and the subsequent penalty kick put the score at 17 v21.
With Laurie Essenhigh now on for Sandbach at scrum half and the home side tiring, the tempo was upped and bore fruit as DK were penalised again for a deliberate knock on and the Cargill penalty stretched the gap back to seven points. Then came those critical last few minutes as Sandbach applied territorial pressure and with a penalty advantage, a deft cross kick saw full back Jonny Edwards over. Cargill added the conversion and with the last play of the game intercepted a speculative pass, to run away and draw the full back and put Leech in for his treble. Cargill's conversion completing the scoring.
This proved to be a good weekend for Sandbach with all senior teams winning, as the Saxons beat their Blackburn counterparts 37 v 25 and the Stormers were victorious away at Oswestry 2nd's 17 v 23. Now the focus will shift to the visit of table toppers Newport next week, where the home team can expect a physical contest and a lively back division. Sandbach despite being unbeaten know there is a lot of hard work to do and won't be getting too far ahead but winning is a habit and long may it continue.