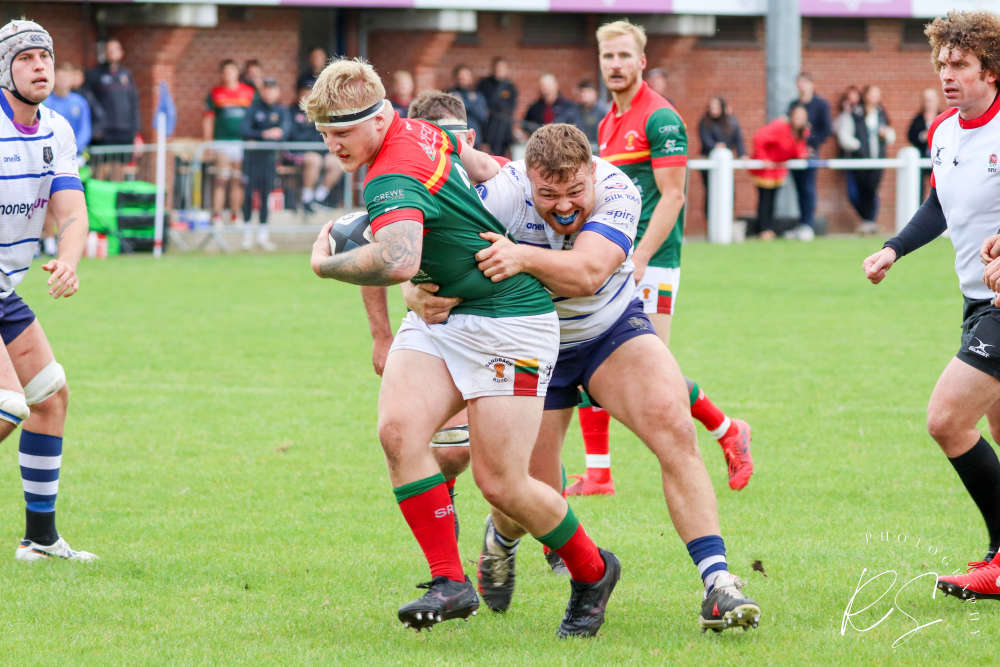 Despite recent form, it was always going to be close in the local derby and so it proved, with Sandbach pinching it at the death over neighbouring rivals Macclesfield.
For the neutral this would have been a great game to watch, as at various stages it looked like either team would win it easily. In the end Sandbach showed the greater conviction to snatch it, by way of a late Laurie Essenhigh try and fine conversion from James Preston. It was a close-run thing and if they had have lost it, they would have only themselves to blame, having failed to take two or three clear cut opportunities. But fortunately it all worked out for them in the end.
The home team started with the majority of the ball early on, as Sandbach conceded several penalties mainly for offences at the breakdown. Macclesfield appeared to have opened the scoring on ten minutes, but fortuitously for the visitors, it was ruled out for a forward pass. Gradually Sandbach began to build into the game and enjoy some territory, and as a result opened the scoring with an Alex Bishop try, from a driving maul. Two minutes later they were scoring again, when with a penalty advantage they were patient, in going through the phases, to eventually create an edge and Essenhigh was in at the corner.
Sandbach at this stage were very much on top and were perhaps guilty of over confidence and butchered a couple of golden opportunities, when they were also at fault with a forward pass and failed to convert a simple two on one break. Critically they likewise failed to score when battering away at the Macclesfield line five minutes before the break, the Bach being penalised for holding on. This seemed to inspire the home team and it was then Macclesfield's turn to take the games momentum with a critical twenty-minute spell. This all started when Sandbach's flanker Ross Sutherland was sin-binned for another breakdown offence and Macc utilised the extra numbers, to put winger Thomas Leicester away to score, just before the half time whistle.
When play resumed it was important that Sandbach managed the yellow card period, which they did not, making unforced errors and giving Macclesfield the impetus. This was duly taken as Macc centre Sam Broster powered over and a Tom Jennings conversion gave them the lead before Sutherland returned. Having lost their first three games, you could see the confidence grow in the home team, who really began to take it to Sandbach and scored quickly again as No. 8 James Oliver forced his way over. Five minutes later twin brother Harry Oliver was brushing off a couple of tackles to score Macclesfield's fourth try and with just over a quarter to play Sandbach were 22 v 10 down.
Finally, Sandbach began to get their act back together again and exert some pressure and reimpose themselves on the game. On sixty-seven minutes they pushed the Macclesfield scrum over the line for scrum half Nick Allsop to score and with James Preston converting, it was game on. They appeared to have created the ideal opening to get back in the lead, when Preston broke away and despite something like five against one, they somehow managed to miss that chance as well. Luckily it was not fatal as minutes later Essenhigh was away again and a neat step inside saw him over for the equalising try with three minutes to play. Preston then struck a beautiful conversion from not the easiest spot on the pitch, for Sandbach to inch ahead.
In the final minutes Macc did have one last throw of the dice to steal it, with an optimistic penalty attempt from fly half Attis just inside the halfway line. The effort however fell short and Sandbach managed to clear their line and keep hold of the ball long enough to see the game out.
Though delighted with the result, Sandbach would have liked to have put in a more controlled performance over the eighty minutes but at least found a way to win. There is still plenty to work on and they know they will need to be better next week, when Manchester visit Bradwall Road. They will certainly need to be more clinical in converting their chances if they are to compete with the fancied teams in the league.
Pictured - Try scorer Alex Bishop.