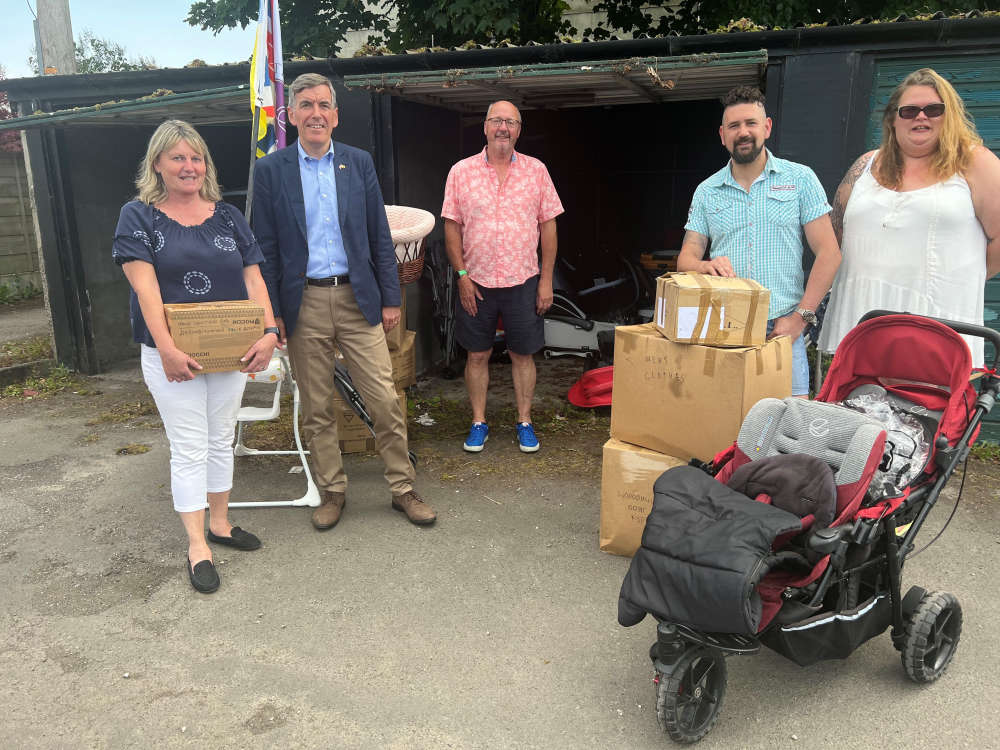 Macclesfield Ukrainian Aid Collection Point provides vital aid and supplies to Ukraine and due to the high volumes of donations, they are now in need of larger storage space.
The group recently showed David Rutley, Macclesfield's MP, the wide range of donations they receive and how more space would enable them to further develop the work they are doing.
When the devastating war broke out in Ukraine, the group started this great cause, which provides support for vulnerable people remaining in Ukraine, with crucial supplies. The group have successfully completed three convoys and are currently planning their next visit. They have been overwhelmed by the support from the local community, through the vast array of medical supplies, food and hygiene products donated.
The Macclesfield based group are also supporting families which have travelled from Ukraine, through the Homes for Ukraine Scheme and are helping them to settle into their new homes and are ensuring they have everything they need. Through these activities, the group have been providing families with day to day living items, such as clothes, prams and bicycles.
With the high volume of donations, the group are in need of further storage space to allow their work to continue. Working with Peaks & Plains Housing Trust, David was able to help secure a garage for the group to use, free of charge for the next three months. However, a more permanent solution is needed, and the group would welcome other offers of available storage space.
In order to raise money for the next convoy, Macclesfield Ukrainian Aid Collection Point have organised a raffle, drawn on the 30th June, with fantastic prizes to be won, including a meal for two with a bottle of house wine at the Bulls Head Mottram and a round of golf for four people at Tytherington Golf Club. Further information on how to purchase tickets or to provide an update on any available storage space, can be done by contacting the group through their Facebook page:
https://www.facebook.com/Macclesfield-Ukrainian-Aid-Collection-Point-101571875815519
...or via the following email address:
Speaking about the group David said "I have seen first-hand the vital work the Macclesfield Ukrainian Aid Collection Point Group have been doing both in Ukraine and locally. The support from the community, as always, has been tremendous. I hope local businesses or residents who may have available space will contact the group – they deserve all the support they can get. I look forward to working with them, as the group plan their next convoy to Ukraine."
Pictured - David Rutley with the Macclesfield Ukrainian Aid Collection Point Group.