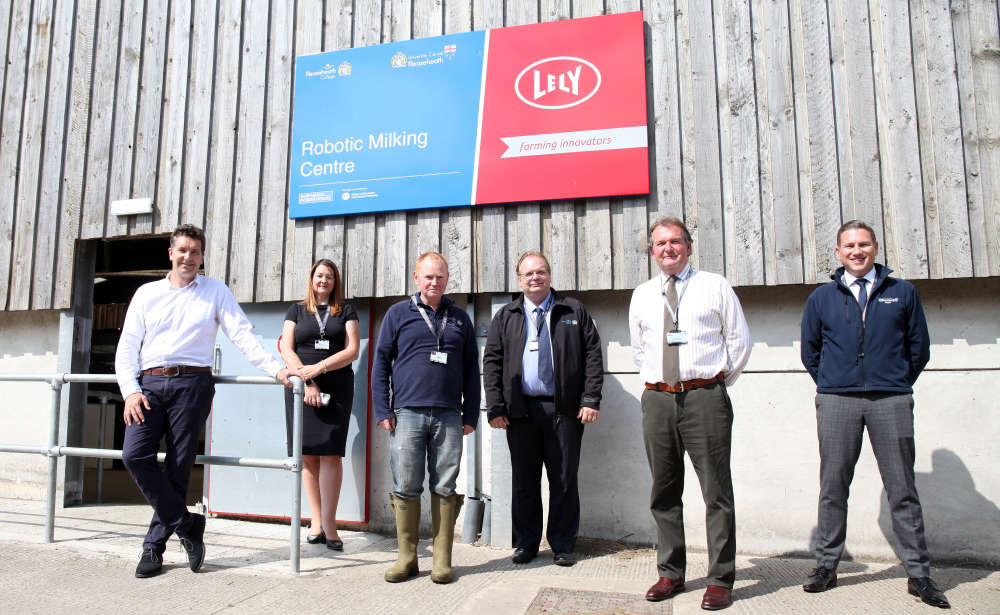 Edward Timpson, Member of Parliament for Eddisbury, recently visited Reaseheath College and University Centre in Nantwich to learn more about technical advancements during a fact-finding campus tour.
Mr Timpson was updated on Reaseheath's latest horticultural innovation—the UK's largest training and research centre for vertical farming—which has just been completed.
Vertical farming is the practice of growing plants indoors in stacked layers under controlled and sterile conditions.
The project aims to showcase the technological innovations within this fast-growing and specialised sector, and offers undergraduates and businesses the opportunity for applied research and technical training.
The Member of Parliament for Eddisbury also visited Reaseheath's recently-installed automated robotic milking system and its associated data hub, which are delivering training in cutting edge green technology skills to Cheshire agricultural staff and students.
The Lely Astronaut A5 system has two robotic milking stations, incorporating sophisticated data processing, and which deliver highly accurate readings in areas such as feed intake, milk yield and cow health.
Both projects have been supported by Cheshire and Warrington Local Enterprise Partnership through its Local Growth Fund.
Mr Timpson was also able to discuss the success of the National Skills Fund, which helps adults to train and gain skills which will improve their job prospects whilst supporting the economy.
Reaseheath is using this funding to offer Level 3 courses in advanced welding, environmental sustainability, landscape construction, public services, coaching and mentoring, management skills and management practice for the built environment. These are free to those who want to gain their first Level 3 qualification.
Praising Reaseheath's efforts, Edward Timpson CBE MP, said:
"I am delighted with the advancements made at Reaseheath College over the past year. As a rural community, more needs to be done to raise our technological profile, so I am glad that the College are showcasing some of their work.
"It has been positive to see the cooperation in Cheshire between the Government, our Local Enterprise Partnership, and our schools and colleges in ensuring all young people have equal educational opportunities—both vocational and academic."
Reaseheath Principal, Marcus Clinton, said:
"I was proud to show Edward the technical advancement on campus. It is this leading-edge approach which puts our college and university centre among the leading land-based educational institutions in the country."
Pictured - Edward Timpson, Sharon Yates, Ed Parrish, Marcus Clinton, David Pearson, Peter Greenall.