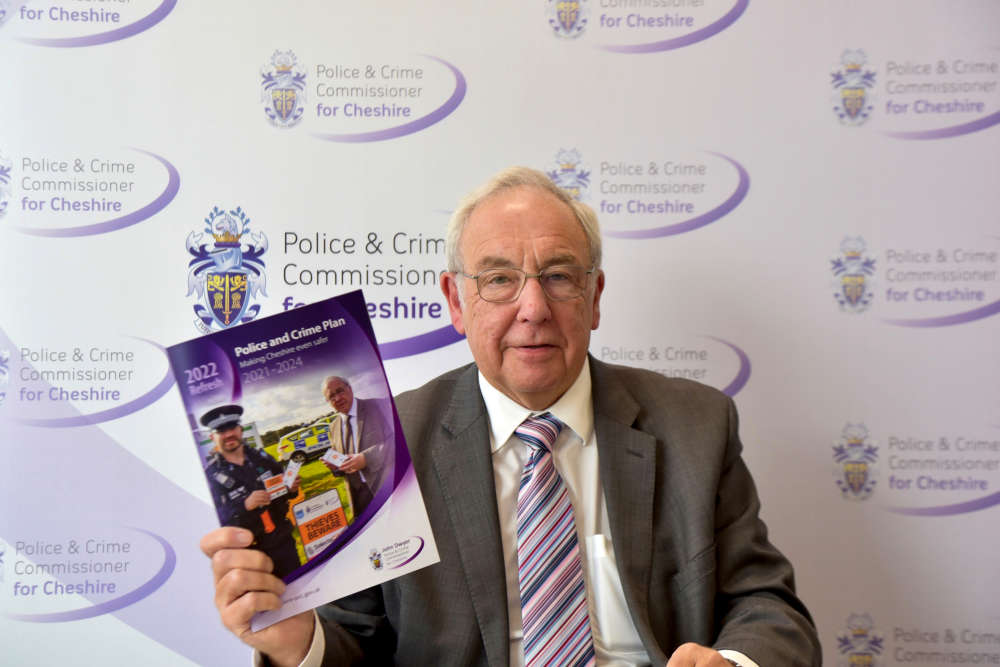 Police and Crime Commissioner for Cheshire, John Dwyer, has launched a new version of Cheshire's Police and Crime Plan.
Finalised in late 2022, the Plan sets out the public's priorities for policing and how the Commissioner intends to achieve them.
A public survey was carried out in Autumn 2022 on the Commissioner's proposal so that residents could have their say on the Plan. After this survey and consultation with organisations who work with the police in Cheshire, the Plan was unanimously supported by the county's Police and Crime Panel in December.
The six key priorities outlined in the Plan are:
• Prevent and tackle crime
• Make Cheshire's roads safer
• Deliver justice for victims of crime
• Protect vulnerable and at-risk people
• Improve public confidence in policing
• Modernise our police service
John Dwyer, Police and Crime Commissioner for Cheshire, said:
"I'm really pleased to be launching this refreshed Police and Crime Plan, and I'm grateful for the feedback I've received from the public and key organisations that has made it possible.
"This Plan is your Plan. While different communities have different issues and concerns, we all have a shared goal of making Cheshire even safer, and this Plan is a clear statement of how we'll achieve that goal for everyone in our county."
The refreshed Plan details progress in key areas since it was first published in November 2021 including millions in extra funding for Safer Streets initiatives, improvements to public contact with the police, and a boost to Police Officer numbers.
The Plan also outlines how the Commissioner intends to continue working towards the six key priorities with a commitment to more road safety initiatives, engagement with rural and business communities, and work to support victims.
John Dwyer added:
"There is lots of work to be done across so many areas, but the progress made so far gives me confidence that we can achieve these goals and the public can be equally confident that the Constabulary and I are working hard to deliver for them.
"It's my role to hold our police service to account on the public's behalf and ensure it delivers. Constant feedback is essential, and I want to continue hearing from people about what's happening in their communities. I know that through working together we can make Cheshire even safer."
To read the Police and Crime Plan, go to:
www.cheshire-pcc.gov.uk/what-the-commissioner-does/police-and-crime-plan
To request a hard copy of the Plan, please email:
...or call:
01606 364000

Pictured - Police and Crime Commissioner John Dwyer with the Police and Crime Plan.