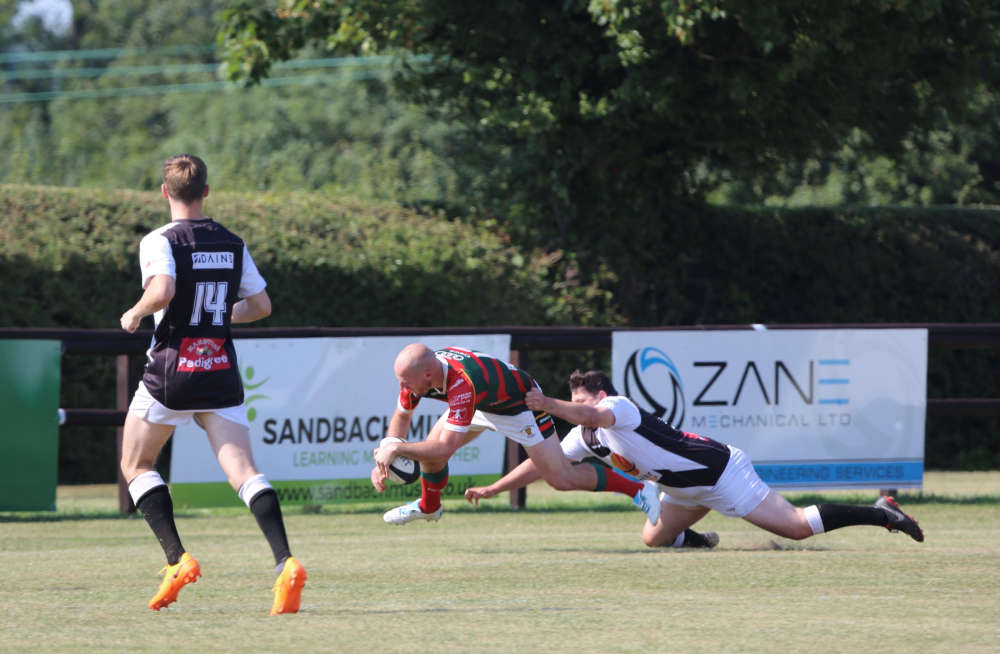 Sandbach RUFC finished their pre-season campaign with a useful work out against former Midlands Premier League opponents Burton on Saturday.
With Sandbach returning to their North West roots this season, the arrival of the Crofters at Bradwall Road provided the two clubs, who play at the same commensurate level in the national league structure, with an ideal work out for their squads. With both outfits taking the opportunity to field virtually two different teams over three sessions, it gave the coaches ample opportunity to assess where they are in terms of preparation and what needs to be worked upon, before the season kicks off in earnest in a fortnight, when Sandbach host Wirral at home in the Cheshire Cup.
Despite missing a number of players due to availability and knocks already picked up in preseason, Sandbach started with what will be closest to their likely starting fifteen in the first session. This was highly contested and punctuated with several water breaks, as the temperature stayed all afternoon in the thirties. Sandbach just edged the forty minutes 14 v 10 with both sides scoring two tries. The difference being the trusty boot of Will Cargill, the former Cornish Pirate fly half returning after missing the second part of last season, with a torn bicep.
With both clubs making major changes at the first break, Sandbach took this thirty-minute interval also 17 v 7, Jack Leech scoring a brace before being replaced, with Olly O'Neal also crossing the whitewash, following a neat cross kick from fly half Mark Bird. The final half an hour saw Sandbach use the whole squad and blood a number of youngsters, with Dylan Sibanda and Toby Aneni catching the eye, but the greater experience and physicality of Burton saw them take the honours in this period 0 v 19.
Overall, despite Burton's try in the last play giving them the aggregate 31 v 36, it was a good hit out and there were lots of positives to take away from the game. It was an opportunity to test Sandbach's wider squad members in a competitive match and further game time for new players to settle in. So, it was good to see how the experienced Myles Hall fitted in seamlessly, the wing / full back having joined over the summer from neighbouring club Macclesfield. Also new boy James Weeks showed his versatility, slotting in at full back. The former Northwich man normally more familiar at fly half or inside centre.
These two are not the only new faces at Sandbach this season with player coach Tom Holmes expected to play soon. The former Sale Shark, Rotherham and Nottingham second row needing a minor operation before returning to action for his hometown club. Similarly new addition fly half Tom Morton may be a while before he takes to the field, the Cheshire and former Macclesfield Captain, is currently recuperating following corrective surgery on the arm he broke last year. Further new additions include Pat Fray a strong running utility forward from Northwich and Ed Randall a back row from the legendary Cardiff Met University, famed for producing quality players.
So, things look well set for the new season which sees Sandbach open their league campaign with the visit of Kendal on the 3rd September. Still plenty to work on though, but with the quality coaching and great facilities, Sandbach will be hopeful to be there or there abouts at the end of the season. However, with just one team being promoted from the Regional 1 North West League, it is likely to be very competitive for that coveted spot.
Pictured - Jack Leech scores.