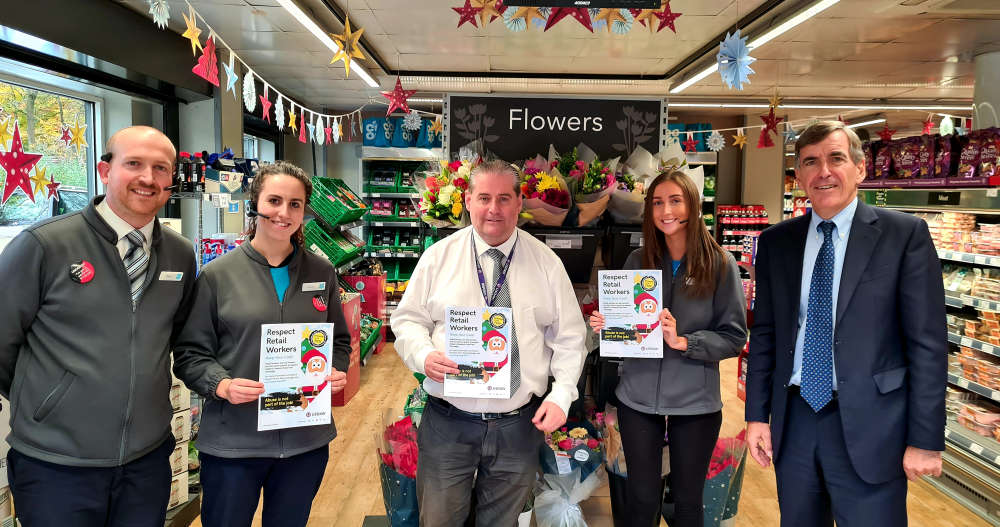 As part of this year's Respect for Shopworkers Week, David Rutley MP visited Prestbury village's Co-op store, where he met with staff and thanked them for all their hard work in taking care of customers' needs and keeping shelves stocked throughout the pandemic.
David was welcomed to the store by manager Paul McCormick, alongside Paul Thomas, the Area Organiser for USDAW, and heard first-hand about the challenges staff face, including from shoplifting. The perpetrators are often from outside the area, and the shop team are taking proactive steps to counter this harmful activity, working closely with Cheshire Police.
Whilst David was heartened that staff have overwhelmingly positive interactions with the store's customers, he was concerned by the distressing experiences told to him by workers about the verbal abuse they have faced. One colleague spoke movingly about the threat of physical violence that they experienced whilst working in a Co-op store in Macclesfield, in which they were, fortunately, unharmed.
According to USDAW figures, in the last year, almost 90% of shopworkers experienced verbal abuse, with 64% threatened by a customer. This growing trend is confirmed by the British Retail Consortium's latest Annual Crime Survey, which showed an increase in violence and abuse against shop staff to over 450 incidents a day.
That is why Co-op is working to raise awareness of USDAW's "Freedom from Fear" Campaign and promote a message of respect for all shopworkers. Co-op has invested over £140 million in technology to keep colleagues safe, including through remote monitored CCTV and, in some cases, body-worn cameras that send real time footage to its security operations centre at the touch of a button.
After his visit to the store, David said: "The vital role shop workers play in our communities has been brought to the fore during the pandemic, when their dedication and service was rightly celebrated. So, it's all the more concerning that threats of verbal and physical abuse towards shopworkers have increased. Respect for Shopworkers Week is a much-needed opportunity to thank local retail staff and say loudly and clearly that everyone should be treated with respect and courtesy at work."
Pictured - David Rutley MP, during his visit to Prestbury village's Co-op store.